The vendors bought the property in 2010 for $11.35 million.
Mr Kairouz said eight first-round offers followed 80 registered enquiries from developers, investors and owner-occupiers.
The office is on the fringe of Heidelberg's CBD where the Austin and Mercy hospitals lend a strong bio-medical flavour to the surrounding office market.
Resurgent fringe
Movie producer Lizzette Atkins has offloaded the office building where she has run Unicorn Films in South Melbourne for the past eight years. Fitzroys agents David Bourke and Mark Talbot sold the three-storey warehouse conversion at 23 Union Street for $2.89 million.
The 340sq m building, with rooftop courtyard and views to the CBD, is on a 177sq m site near the corner of Dorcas and Clarendon streets.
Mr Bourke said enquiry came from owner-occupiers looking for standalone accommodation and potential home/office options.
"The COVID-19 period has prompted a reassessment of working arrangements. Many businesses are looking to move to city fringe and inner suburban locations to be closer to their home," Mr Bourke said.
On the other side of the city, a long-empty bank building on the corner of Johnston and Hoddle streets sold in the high $1 million range within two days of hitting the market in a deal negotiated by CRS Property agent Ross Mercorillo.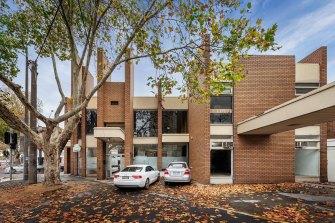 Records show local inner-north investor and McDonald's franchisee Heath Fitzgerald slapped a caveat on 217 Johnston Street Abbotsford in late January.
The vacant 70s era brown brick 355sq m property, near the Victoria Park railway station, was an ANZ bank branch until the early 1990s.
Mr Mercorillo, who declined to comment on the buyer, said enquiry was strong from owner-occupiers and investors.
Supermarket sells
A neighbourhood shopping centre deep in Melbourne's south-eastern suburbs has sold before it has even been built.
Sandhurst Retail snapped up the Botanic Ridge shopping centre for around $14 million.
The 6000sq m centre is on a 2.5 hectare site with a 12-year lease to Coles and Liquorland occupying 3770sq m of the space.
It's part of Peet's Acacia housing development, 55km from the city and construction starts next month.
Colliers International agents Tim McIntosh, Mike Crittenden and James Wilson negotiated the deal which reflects heightened investor interest in the basic booze and food offered in neighbourhood centres.
Last month, the Woolies Torquay Central fetched $25.1 million on a very skinny 3.97 per cent yield.
Stonebridge, who did that deal, is also marketing the Woodend Coles which returns $1.43 million a year.
Quiet deals
Just one of many quiet deals during 2020 was the sale of the Northcote Business Park.
The 1.25ha property on the banks of the Merri Creek, opposite Ceres park, sold to Sydney developer Metro Homes for $23.25 million.
Demolition is underway at the 1990s-era business park at 198 Beavers Road, which was most recently owned by the family of the late convicted tobacco smuggler Nabil Grege.
Metro, through its subsidiary Creation Homes, is developing 74 three-storey townhouses designed by ClarkeHopkinsClarke Architecture.
Once a bus depot, the property was sold off during the Kennett government's reign of asset disposals.
Mr Grege paid $2.5 million and ran his nut importing and roasting business on the riverside property. He died last year, leaving his family squabbling over a $52 million estate.
Shop around
One of the sites that collapsed developer Stellar couldn't get off the ground sold for a price believed to be more than $8 million over the summer.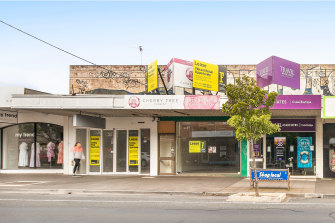 Fitzroys agents Mark Talbot and Shawn Luo sold 466-476 Hampton Street, a row of shops in the Hampton Hill precinct. They declined to comment.
The shops cover a 1358sq m footprint. Stellar owned half the site but sold it in 2019 as the company was coming apart.
In St Kilda, an old block of flats at 92-96 Carlisle Street with a permit for a six-level 32-unit residential project has fetched around $4.16 million.
Colliers International's Jozef Dickinson, Joe Kairouz and James Wu sold the property for the Linara Property Group.
The 866sq m site is on the corner of St Kilda Road next to a park.
"We had a lot of interest from the market, which included a number of different uses for the site," Mr Kairouz said.
Meanwhile, the Chinese owners of 125-127 Alexandra Avenue, overlooking the Yarra, have put the 596sq m development site on the market.
Teska Carson agents Luke Bisset and Matthew Feld are handling expressions of interest which close on March 3 and are expecting around $5 million.
The duplex which once sat on the hilly block has been demolished. The vendor, Grand Galaxy, had paid $4.8 million in 2016, just as the market was ramping up to its peak.
Also in the south-east, Gross Waddell agents Danny Clark and Andrew Waddell sold 99-121 Carinish Road in Clayton for $11.2 million.
The Ouson Group had secured a permit for the 9330sq m site for a nine-level retail childcare and office project.
Firms merge
There are more changes afoot at Gross Waddell, which has merged with ICR Property Group to become Gross Waddell ICR.
ICR managing director Raff De Luise is a significant equity holder in the new business along with stalwarts Michael Gross and Andrew Waddell. Barry Novy remains as executive chairman.
It's been a big year of structural change. Last year, Gross Waddell added new partners Danny Clark, Alex Ham, Andrew Greenway, Raoul Salter and Tony Aarons as well as associate partner Julian Materia.
Mr Waddell said the merger combines the complementary strengths of each business. Gross Waddell's traditional core has been office, developments and retail while ICR brings a sizeable industrial component to the merger.
"Geographically, ICR's focus was in the north and west whilst Gross Waddell concentrated more on the east and south-east so with the businesses coming together, we significantly extend our spread and coverage," Mr De Luise said.
Nicole Lindsay is a property reporter at The Age.