ff
Greek tennis player Michail Pervolarakis says he has tested positive for coronavirus upon arrival in South Africa, after flying there from Australia. A Tennis Australia spokeswoman said he flew out of Melbourne to an unknown location on February 9 and returned a negative test on that day.

The Victorian government has stuck by its claim a returned traveller since hospitalised with coronavirus didn't declare a nebuliser, blamed for the hotel quarantine super spreading event that has locked down the state.

The 38-year-old return traveller in Victoria insisted hotel quarantine staff were aware that he had the device and that they had even offered to source more of the medication administered by the machine.

Victoria recorded just one new coronavirus infection on Sunday, a man in his 30s who is a friend of a Holiday Inn staff member who had previously tested positive.
Greek tennis player Michail Pervolarakis says he has tested positive for coronavirus upon arrival in South Africa, after flying there from Australia.
Pervolarakis – who did not play in the Australian Open but did play in the ATP Cup as late as February 5 – posted to his Instagram story at 9pm to let his followers know of the news.
The ATP Cup was held at Melbourne Park. His movements since are unknown.
"Hi everyone. After a 24 hour+ travel day from Australia to South Africa I have been diagnosed positive to COVID-19," he wrote on Instagram.
"I am completely asymptomatic at the moment and will have to quarantine in an isolation facility in Potchefstroom.
"I am not a person that complains but I feel that I need to express my disappointment at the conditions we are in."
A Tennis Australia spokeswoman said Pervolarakis flew out of Melbourne on February 9 and returned a negative test on that day. It is not know where he flew to from Melbourne.
The entirety of Terminal 4 at Melbourne Airport between 4.45am and 2pm on February 9 has been declared a tier one coronavirus exposure site by Victoria's health department.
Anyone there at that time has to get a test and isolate for 14 days. It is not clear if Pervolarakis was in Terminal 4 at this time.
It is unknown where he caught the virus or what type of test he received upon arrival in South Africa.
The player and Victoria's health department have been contacted for comment.
The Australian Open is going ahead without crowds despite Melbourne's lockdown.
WASHINGTON – United States President Joe Biden has ruled out requiring coronavirus tests for all passengers on domestic flights, saying the scientific evidence doesn't support implementing the measure.
A White House statement late on Friday local time (Saturday afternoon AEDT) said the US Centers for Disease Control and Prevention (CDC) isn't recommending testing and that Biden will follow their lead.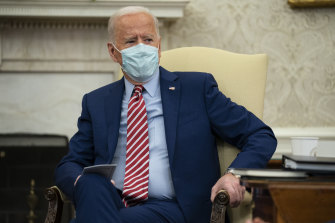 "President Biden has taken a number of steps to make travel safer since coming into office, including requiring masking on all air travel and public transit, pre-departure testing for inbound international travel and self-quarantine and testing after international travel," White House spokesman Kevin Munoz said in a statement.
"At this time, CDC is not recommending required point of departure testing for domestic travel. As always, we will follow the science to bring this pandemic to an end."
The statement comes after the notion of pre-flight testing was floated by CDC director Rochelle Walensky and by Transportation Secretary Pete Buttigieg, who was asked about it and said it was an ongoing discussion with the CDC.
That touched off an outcry from airlines and unions, with the industry already under heavy pressure from a steep drop in travel because of the pandemic.
Biden has made fighting the pandemic his top priority, giving scientists regular public platforms to warn of the risks, ordering more vaccine doses and imploring Americans to wear masks until at least the end of April.
Bloomberg
Images are starting to flood in of just how quiet regional Victoria is right now, with holiday spot Nagambie in the state's north completely empty.
On a normal summer evening in Nagambie, around 130km north of Melbourne, you'd expect to see busy streets and boats studding the lake.
But instead there's few out and about tonight, due to the lockdown rules which require Victorians to only travel for four reasons, including essential shopping, care and caregiving, exercise and essential work.
And in Echuca on the Murray River, the outlook was not much different, according to my brother who lives there.
He said while the tourist town's main street was "business as usual" last night – restaurants full and plenty of holidaymakers – Echuca's city centre is now deserted.
Such was the exodus from the town that long lines of campervans and 4WD vehicles had to wait to cross the border back into NSW last night.
It's important to remember that coronavirus restrictions for the bulk of regional Victoria in the second wave were slightly less severe than than in metropolitan Melbourne, because of the 'ring of steel' separating the two.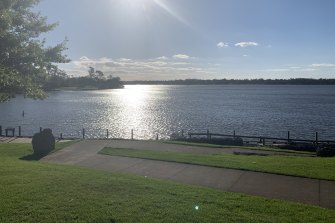 Victorian hospitality businesses set for one of the best weekends of the year are instead throwing away tens of millions of dollars worth of produce in a lockdown catastrophe, according to reporter Zach Hope.
Florists too were left scrambling on Friday and on Valentine's Day eve to switch to a "click and collect" setting and get deliveries out the door amid uncertainty about whether they were even allowed to trade at all under current stage four COVID-19 restrictions.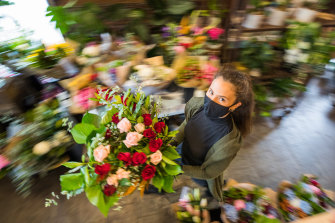 Florist Rahnee Moller, from Carlton North's Art Stems on Lygon, was on Saturday sitting on thousands of dollars worth of perishable stock and unsure how much would have to be thrown away.
"[On Friday] people came in just to buy from us because they knew we had so much stock for Valentine's Day," Ms Moller said.
"They were saying 'What do you need to get rid of the most. I'll buy it. I don't care'. It wasn't even for Valentine's Day, it was just because they knew we needed support. It was amazing."
Restaurateur Luke Stepsys said that during the latest lockdown he had thrown away $30,000 worth of produce from Richmond's Feast of Merit and Fitzroy's Panama Dining Room.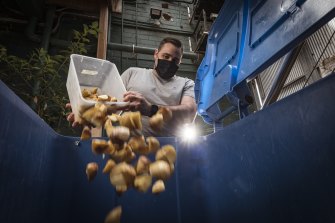 He has also had to deal with the devastated families of two cancelled weddings scheduled for the weekend, both worth tens of thousands of dollars, and has sent staff home indefinitely on full pay.
"Lives are too important, so I'll cop lockdown," Mr Stepsys said.
"But we need to back up and ask why are we in this position. Again. I want answers. Someone needs to be held accountable. The hospitality industry cannot work from home."
An emotional Mr Stepsys said businesses deserved appropriate compensation for what he labelled a "fool's gold" quarantine program. He also believed the federal governments must reassess the number of returned travellers Australia accepted.
"I'm not saying my rights are greater than [returned travellers] but I'm sick of the argument being thrown back in my face," he said. "I also deserve a voice. The 600,000 small business owners in Victoria deserve a voice."
Melbourne's property market has shrugged off the challenge of a temporary ban on in-person auctions, with a strong clearance rate and a $10 million-plus sale price under the virtual hammer.
In scenes far removed from the near-complete halt in activity last year during lockdowns, agents reported keen buyer interest in online auctions – and some even brought forward auctions to Friday night to beat the five-day ban because of the snap lockdown.
Saturday's clearance rate was 75.4 per cent. There were 698 auctions scheduled – agents reported results from 439 results, 180 of which sold prior, and 92 were withdrawn. Twelve of 17 auctions brought forward to Friday sold in-person.
The highest sale price of the weekend was $10.15 million for a five-bedroom spread in Park Street, Brighton, on 1234 square metres.
Selling agent Scott Xue, from Marshall White Bayside, said despite the lockdown there was never any doubt about the auction going ahead, albeit online, given the level of interest in the multimillion-dollar property.
"When you're selling this kind of property and you have three really strong buyers you don't postpone it," he said.
"Normally when you are selling any property over $5 million or $6 million you typically only have a limited number of bidders. We knew this was very hot so we went ahead and got a very good result," he said.
Queensland health authorities have managed to contact all 1500 people identified as having a connection to exposure sites at Melbourne airport before travelling into the state, acting chief health officer Sonya Bennett says.
All have now been asked to quarantine at their place of residence for 14 days from when they were last in greater Melbourne, which was declared a hotspot by Dr Bennett as of 1am Saturday.
Extra contact tracers were brought in to help with the task in the wake of the Holiday Inn quarantine hotel cluster which has now sent all of Victoria into a five-day lockdown.
"The fact that we have been able to move so quickly to contact these 1500 people means we are in a very positive position to control any potential spread into our community from our country's latest outbreak," Dr Bennett said in a statement on Saturday afternoon.
"The situation in Melbourne is yet another wake-up call for our community, that anything can change at any given moment during a pandemic."
Dr Bennett said the border closure to travellers from greater Melbourne would be reviewed after 14 days instead of the usual 28 days because there was not yet wider community transmission associated with the cluster.
The daily Department of Health update has arrived.
There's not a lot of news in it that we didn't hear at the press conference this morning but it does provide a breakdown of the 996 people who have been identified as primary close contacts related to the Holiday Inn outbreak.
Of the 996 primary close contacts:
78 are social and household contacts;
614 are staff and resident of the Holiday Inn hotel quarantine facility; and
304 are related to exposure sites.
"This number will increase daily as we continue to obtain contacts through interviews, QR codes, sign-in sheets and people coming forward," the statement says.
Melbourne is a city deserted at the moment as lockdown kicks in.
Talented The Age photographer Jason South has taken these shots today which really bring home the impact of the shutdown.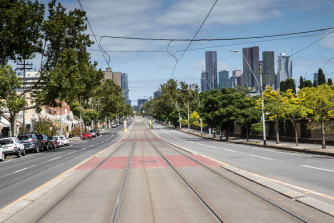 Asked if there should be an apology to the man, Ms Cassar expressed regret over the situation.
"I'm deeply sorry for his treatment. No one ever wanted this to happen and I'm sorry that this has been played out the way it has, it is awful," she said.
"We have never accused him of doing the wrong thing he hasn't done the wrong thing. And he had no, I suspect, and he had no understanding.
"I'm sorry for the way he's been treated and I would really encourage media outlets to be respectful to be kind. We need to be cognisant of the fact that this person has endured a really rough illness, and he's trying to recover. We want to support him as best we can."