Herrera Beutler alleged that as a violent mob of Trump supporters stormed the Capitol, McCarthy asked the then-president to publicly "call off the riot" and told Trump the rioters were his supporters rather than far-left activists.
In a statement released on Twitter, Herrera Beutler said that Trump then told McCarthy: "Well, Kevin, I guess these people are more upset about the election than you are."
On Sunday Jamie Raskin, the Democrats' lead House impeachment manager, called for Herrera Beutler to appear as a witness at the trial to discuss the conversation between Trump and McCarthy. He said she could appear via Zoom for a one-hour deposition.
The Senate then voted 55-45 to call witnesses to the trial although some senators appeared confused about what exactly they were voting on.
Five Republicans joined all 50 Democrats to call witnesses to the trial.
Loading
After voting not to hear witnesses, Republican Senator Dan Sullivan asked for clarification about the nature of the vote.
After voting not to hear witnesses Republican Senator Lindsey Graham – one of Trump's most loyal allies in Congress – changed his vote to a yes.
Trump defence lawyer Michael van der Veen appeared blindsided by the move, and threatened to depose 100 witnesses to appear at the trial.
"Now is the time to hear closing arguments, now is the time to vote your conscience," he said.
An appearance by Herrera Beutler at the trial would almost certainly lead for calls for other witnesses to testify. Subpoenas would be required for reluctant witnesses to appear, which could lead to legal challenges that delay the process even further.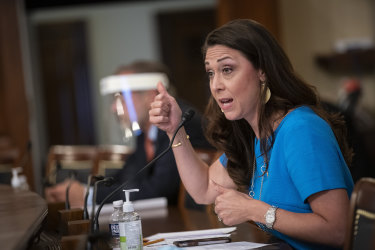 After the vote on witnesses, Republican Senator Marco Rubio described the trial as a "complete farce".
"Now that we are going to have witnesses no one can claim this is a fair trial unless both sides are now allowed to call them," Rubio said.
Earlier in the day Republican Senate leader Mitch McConnell announced in a letter to colleagues that he would vote to acquit Trump.
"While a close call, I am persuaded that impeachments are a tool primarily of removal and we therefore lack jurisdiction," McConnell wrote in his letter.
More to come
Matthew Knott is North America correspondent for The Sydney Morning Herald and The Age.