Was Barty's bid to better her 2020 Australian Open semi-final finish doomed? Was an injury the reason?
Despite the early scare, the answer was a definitive "no" as she won 6-2, 6-4. Nor did the world No.1 show any discomfort near where she wore the strapping.
"[The leg] feels good," Barty said after the match. "We had to give it time to rest and recover, we're doing all the right things to make it as good as possible.
"As I said it's a pretty small tape job that looks a little more dramatic just from wrapping it to try and keep it on.
Loading
"All good. Felt like it didn't affect me at all today, it won't affect me at all. I will be ready to go no matter what."
Barty signalled she wasn't going to be walked over by the Russian in the second game, when she pushed her to defend three break points.
She eventually broke back in the fourth game and the sixth game and went on to win the first set with ease.
Alexandrova knew Barty's slice was a scary and relatively uncommon weapon, biting back at opponents when it lands, making players who've hit tennis balls their whole lives look silly.
Loading
Because of this the world No.33 tried mighty hard to hit as much as she could to Barty's forehand early to avoid it.
The only problem was that Barty was hitting her forehand as sweetly as she had since returning to the court in January, after almost a year off due to the pandemic.
So back to the slice she went. The result was devastating for the Russian, typified by the winner Barty hit to bring up 15-0 at 5-2 in the first set.
Barty raced to a ball placed deep and wide in the court and sliced it flat and hard, the ball dropping quickly half-way into Alexandrova's court and stopping virtually on a dime.
Alexandrova lifted though, not allowing Barty to make her scamper around the court and breaking her in the fifth game of the second set. She looked best when she attacked the net early in points.
It didn't last long though. Barty brought the slice back a few games later and broke her opponent, who had never been to a fourth round of a grand slam despite four third-round berths.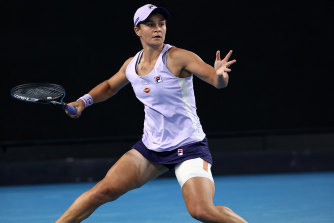 Barty was in full control. She held serve the next game and raced to a 0-30 lead trying to break for the match, Alexandrova looking extremely uncomfortable hitting Barty's slice and then slamming her racquet on the ground in frustration.
The Russian forced it to deuce but Barty prevailed with a volley straight past her, winning the second set 6-4.
The win came in front of empty stands, a first for Barty.
"I almost had to cut myself some slack and give myself the time to get used to it and adjust to it," she said. "It's fair to give yourself just that few minutes to take it all in and understand what it's about.
"From a tennis perspective and the way I go through my routines before the points, how I think about how I want to structure the match, that doesn't change at all."
Barty will play world No.57 American Shelby Rogers in the fourth round after she beat Anett Kontaveit in straight sets.
Anthony is a sports reporter at The Age.