"What struck me visiting Tesla was that at a time we had just chased car makers out of Australia, but they [the United States] were welcoming new car makers. Walking around that floor opened my eyes to the prospect that it can be done," he said.
Loading
"The point is how do we create jobs in a pandemic and post-pandemic world? This would merge the blue collar and the white collar, this is advanced manufacturing because cars are computers today."
Mr Husic is aware that even starting a conversation about making electric vehicles in Australia could invite scorn, but has a ready riposte. "The Coalition massively dented national confidence in manufacturing – so much so that when you ask about build EVs here, the default response is to can the idea," he said.
"We've got the technical talent, the finance capacity through the superannuation pool of savings, the raw materials, the manufacturing capability and particularly an advantage in battery technology. And the fact is that the model of production has changed with electric vehicles. Companies don't want to be shipping heavy batteries a long way when they have to be sensitively transported."
For Mr Husic, the federal government's role would be to bring those different sectoral capabilities together and create the policy settings – including on tax, regulation and subsidies – to make it a reality.
The Morrison government recently ruled out taxpayer subsidies to drive the take up of electric vehicles and hybrids, instead setting its sights on driving the take up of EVs as fleet vehicles.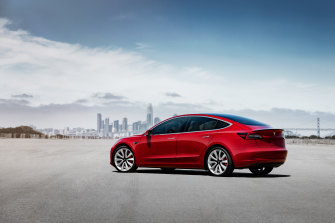 Low-emission cars are a key part of the government's technology road map to reduce emissions, given the transport sector contributes 18 per cent of Australia's carbon pollution.
But the government's discussion paper found that the effective carbon price of subsidising electric vehicles did not represent value for money.
However, other major economies including Canada, the United States, United Kingdom, Japan, Germany, Italy and France offer EV subsidies of between $5000 and $10,000 per vehicle.
Electric Vehicle Council chief executive Behyad Jafari said Australia could be at the forefront – if it chose to be – of electric vehicle manufacturing.
Loading
"Vehicle manufacturing plants can serve the local market and then look to expand overseas," he said. "There is a need for highly skilled employees, which makes Australia a favourable location for manufacturing. If it was huge factories with hundreds of thousands of workers, other countries would be better."
For electric cars, the most expensive component in a car is the battery, Mr Jafari said, and "we have the raw materials for those batteries". "This is about vision and leadership – this is a massive opportunity for Australia."
James Massola is political correspondent for the Sun-Herald and
Sunday Age. He was previously south-east Asia correspondent in Jakarta and chief political correspondent. Before that he was political correspondent for the Australian Financial Review.