The creation of a draft place strategy plan typically takes about 18 months while one for a highly complex area such as Camellia, scarred by decades of heavy industry, is likely to take longer.
The planning proposal by Mr Demian's company for the site, which is bound by James Ruse Drive to the west and the Parramatta light rail line to the east, has been revised over a number of years, and initially sought 2000 dwellings.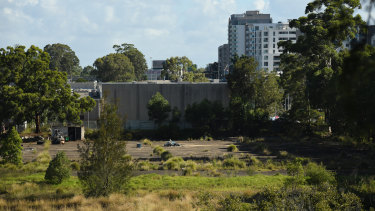 In its decision, the department raised concerns about the density of the proposed development.
The plan for 3200 dwellings was deemed inconsistent with a master plan for the Camellia town centre which would have led to only about 2000 dwellings being built on the old James Hardie site.
Mr Demian's projects – including the old James Hardie site at 181 James Ruse Drive – have featured in ongoing ICAC investigations into whether former MP Daryl Maguire, Labor fixer Bechara Khouri and former Canterbury councillor Michael Hawatt worked to help him with his property interests.
Loading
Mr Demian, who is also known as Charbel, did not respond to requests for comment.
A spokeswoman for the Department of Planning said significant strategic work was needed to transform Camellia and Rosehill into a hub for jobs, housing and open space, and "any consideration of individual ad hoc planning proposals in this context would be premature".
However, Parramatta lord mayor Bob Dwyer is highly critical of the government's plan to embark on another detailed strategic plan for Camellia.
"Not only will it further delay the area's revitalisation – including the land at 181 James Ruse Drive, Camellia – but it puts a question mark over the much-needed metro station," he said.
Loading
He has vowed to keep pushing for a train station to be built at Camellia, or at least provisioning for one, as part of the Metro West rail line despite the government ruling it out almost 18 months ago.
Cr Dwyer, a Liberal Party member, said the council, together with the government, had undertaken years of extensive strategic and master-planning work for Camellia. "That's why we are disappointed in the [department's] decision to undertake yet another 'place strategy' for Camellia," he said.
The lord mayor said the construction of homes at Camellia was crucial to ensuring the Parramatta local government area could accommodate an extra 100,000 residents by 2036.
"Parramatta is growing at a rate of knots. This is the last part of the river [at Camellia] that hasn't been cleaned up," he said.
Matt O'Sullivan is City Editor at The Sydney Morning Herald.