A frustrated NSW Planning Minister Rob Stokes told the Herald last week: "They made a movie about this sort of thing. It's called Muriel's Wedding. This is Porpoise Spit."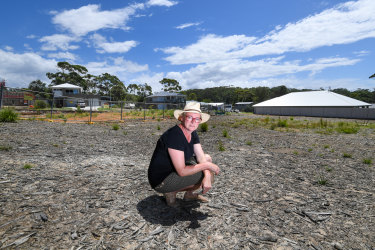 He said NSW carried the scars of bad planning decisions made over decades up and down its coast. In this case, he says, the Shoalhaven Council has the opportunity to right a wrong.
In December, Mr Stokes wrote to Shoalhaven Council calling on it to support the protection of the land. Instead, in a subsequent vote, a majority led by a party known as the Shoalhaven Independents voted not to support the minister's request, and demanded recompense from the state government for sewerage works it completed in the area should it act to preserve the land.
Says the Shoalhaven's popularly elected Greens mayor, Amanda Findley, who does not enjoy a working majority on the council: "It was a deliberate insult.
"They basically stuck their finger up at him."
According to Cr Findley, the Shoalhaven Independents have a "development at any cost" view and close ties to developers. They are determined not to lose such a large tract of new homes, she says.
Deputy mayor and Shoalhaven Independents leader Greg Watson said he supported appropriate development and understood those who wanted to protect the disputed land.
But he said he and the other Shoalhaven Independents were not willing to spend ratepayer money purchasing the land, in part out of concern at the precedent it would set for other developers.
Loading
"If Rob [Stokes] wants to fix it, he can," said Mr Watson, noting that the land was originally approved for subdivision by the state government.
Mr Stokes said he had given the council money it could put towards the land's purchase via a grant for the purchase of park space.
Mr Watson said: "That money's gone. Spent."
The land's developer, Ozy Homes director Ghazi Sangari, bought the land in 2018 for $3.85 million. He declined to comment for this story, but in correspondence with NSW Greens MP David Shoebridge last year, he wrote that he expected each lot to fetch between $125,000 and $140,000, valuing the subdivision at between $22.75 million and $25.48 million.
Peter Winkler, of the local activist group Manyana Matters, said the group would like to see the community, the council and the state government work together to buy the land for a reasonable price from Mr Sangari. According to a valuation they had done last year, the land is worth between $3.7 million and $4 million.
"If [Mr Sangari} wants to come in and save the day as a white knight, we'd support him. We'll buy him the horse and the saddle," said Mr Winkler.
As the incinerated national park around Manyana slowly comes back to life, the development site had become even more crucial to wildlife, Mr Winkler said.
"Walking through at dusk, it teems with life," he said.
"It has become an ark."
Start your day informed
Our Morning Edition newsletter is a curated guide to the most important and interesting stories, analysis and insights. Sign up to The Sydney Morning Herald's newsletter here.
Nick O'Malley is National Environment and Climate Editor for The Sydney Morning Herald and The Age. He is also a senior writer and a former US correspondent.