Well that's all for tonight, an unusually early night after Matteo Berrettini withdrew from his match against Stefanos Tsitsipas.
Ash Barty gets through unscathed to keep the dream alive, while Rafael Nadal also progressed into the quarters.
We'll see you back here tomorrow. Among the key matches, Serena Williams will take on Simona Halep and Novak Djokovic takes on Alexander Zverev. Those two matches will run back-to-back on Rod Laver Arena tomorrow night.
See you then.
Tick. Make that two ticks. The fourth of the seven wins Ash Barty needs if she is to triumph at the Australian Open was her most emphatic yet. It took her just more than an hour to defeat capable American Shelby Rogers 6-3, 6-4. It was classic Barty, a gentle thrashing, writes Greg Baum.
Groundstrokes? Tick. Serve? Tick. Make that uptick. It's perhaps the most improved part of her game, and it was crucial this night against a player who as Barty noted can hit you off the court if you give her a chance. She had for 20 minutes in a match between the pair here only 10 days ago.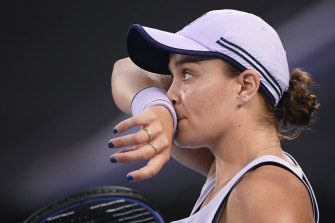 In case you missed it, Karolina Muchova is through to the quarter-finals to play Ash Barty.
Ash Barty has spoken post-match about the love she has for her team. Watch below.
Barty joined Casey Dellaqua for the post-match interview.
Ash, congratulations. You are through to the quarter final for the third executive year here at the Australian Open. I know you love playing in Australia, but what is it specifically you love about these blue courts and playing out here on Rod Laver Arena?
It's really exciting to be through to another quarter final. I think if you would have told me a few months ago this is the start to the year we'd have, we'd take it with a massive smile on our face. We come out, have fun. Obviously I've grown up on these courts and played on them for many years but I just love being at hope.
Let's talk a bit about the match. Shelby a tough opponent. It seems you came out here and were really ready for the match. I know you're methodical how you approach matches. What are the things you did out here tonight you thought you executed well?
I knew my serve was going to be massive, she is a player that can take the match away from you very quickly. I needed to have my running shoes on, but serve well and try and be in control as many points as I could.
You did a great job. In your player box you have a fantastic team and I just want you to talk to me a little bit about what they bring to Ash Barty on a daily basis.
They're my family. They're with me so many days of the year, so many weeks of the year. We go through the highs together and the lows together and all the hard work in between. So I think I'm appreciative of them they have sacrificed so much time and energy to put into my career and to chase our goals and our dreams. I think most of all we have fun doing it. There's a lot of laughter, a lot of love and even though there's a fair bit of banter from a certain Englishman that has come into the pack, we've welcomed him in, kind of, he'll be up there with a red cherry face which is brilliant.
You're talking about Mark Taylor, your conditioning coach. You've let him into the Ash Barty crew. You are a very lucky lady to have them and Australia is so lucky to be witnessing you play such great tennis here on Australian soil. Well done, mate.
Thanks everyone.
Watch below as Ash Barty moves into the quarter-finals.
Well, the quarter-final match-ups are now settled.
Ash Barty will face Karolina Muchova, Simona Halep will take on Serena Williams, Namoi Osaka is pitted against Su-Wei Hsieh and Americans Jessica Pegula and Jennifer Brady will do battle.
The men's draw is also sorted after Matteo Berrettini pulled out of his match with Stefano Tsitsipas.
Tsitsipas will play against Rafael Nadal, Novak Djokovic faces Alexander Zverev in a blockbuster, Danil Medvedev takes on Andrey Rublev, and Grigor Dimitrov is up against qualifier, world No. 114, Aslan Karatsev.
Ash Barty is through to the quarter-finals for the third consecutive year, winning 6-3, 6-4.
The Aussie was clinical tonight, albeit one service game in which she had two match point opportunities and missed them.
She led 5-1 in the second set, but Rogers worked back to 5-4 before Barty won the final service game to love. The match took one hour and 11 minutes to complete.
She hit 21 winners, Barty, to 14, and hit just 16 unforced errors to Rogers' 25.
Shelby Rogers has held serve to move to 5-4 in the second set.
Ash Barty will get another opportunity to serve for the match.
Karolina Muchova is through to the quarter-finals after defeating Elise Mertens, 7-6, 7-5.
Mertens led 5-2 in the first set at one stage, before Muchova began her comeback, winning four straight games before taking out the first set in a tiebreak.
Muchova will play the winner of Ash Barty and Shelby Rogers.