Earlier tonight, Serena Williams belied her 39 years of age to sweep aside No.2 seed Simona Halep 6-3, 6-3 to make it through to the semi-finals where she will face Naomi Osaka.
Novak Djokovic spoke to Jim Courier after his four-set victory over Alexander Zverev…
Q: Novak, that was impressive. We know that you suffered an injury in the third round, we know you have been playing in pain. The first eight games of this match you played different than we are used to seeing out here. You played very fast. You were trying to keep the points short it looked like to us. When you were down 5-3 something changed then. You seemed to click back into the normal Novak we are used to seeing out here. Walk us through the first set and what it was like to be in your body then?
A: Well, with this kind of condition I need time to warm up. Even though I had almost an hour of a warm-up hit prior to the match. I still you know, I still felt like it's going to take me some time to warm up to actually feel that I can rotate well and you know, I was lucky to get that break and I think was a tense game. He was serving for the first set. It was a close tie-break. After that you know I just felt I started moving better. Playing better. I served extremely well. I think I had a slightly more aces than him which is for me a miracle obviously playing against a big server like Sascha. I mean, down to the last very last shot, it was anyone's game. A lot of nerves out there, a lot of pressure and emotionally I feel a little bit drained honestly. I it was a great battle. Congrats to Sascha for a great tournament. Great battle today. Tough luck obviously today but we push each other to the limit.
Q: You sure did. He won that first set in spite of you turning it back on. Second set went your way. He was up breaks. And had chances to go even more that. Double breaks in a third and fourth set. How did you pull this out. It was nip and tuck to the very end.
A: Other than the second set I started pretty poorly all the other three sets, lost my service very early in the first, third and fourth. And just kind of allowed him to swing through the ball a bit, a bit more. But I kind of regained my focus after I broke that racquet. Things started to shift a little bit for me. In a positive direction. Yeah, as I said, you know, if he would win this match it wouldn't be definitely undeserved. He was playing really well. It was anybody's game. I'm just really glad to overcome such challenge.
Q: I want to ask you, we know tennis is a difficult sport and I want to ask if you have ever had to deal with an injury that you suffered during a Grand Slam that's been as difficult as this one?
A: No. No. I did suffer various injuries throughout my career during Grand Slams, I was retiring during Grand Slams, I was retiring during Grand Slams several times, once in Wimbledon quarters and US Open was I think the last against [Stan] Wawrinka in the fourth round. So it's not the first time this is happen. But you know, with the magic hands of my physio, medical team, again, ATP physios, everyone who is really kind and genuine to spend their time and knowledge and know how to help me out. You know, and I've been doing various things to try to put myself in a condition to play. I haven't been practising in the days off. I am going to keep doing the same and hopefully the result will be in the end the same like it was today.
Q: You will be back out here in a couple of nights. Thursday night. You will be seeing someone who hasn't experienced a semi-final of a Grand Slam. In fact he's never experienced the first round of a Grand Slam until this year. An amazing story, Aslan Karatsev the Russian qualifier has played brilliantly. He's in the semis and will face you. What do you know about his game and what do you expect in that match?
A: To be honest I haven't seen him play at all before Australian Open.
Q: He's good.
A: Of course I have seen him play during the Australian Open. I've seen him play today and seen him play the last match. Very strong guy physically, very strong. Moves well. Just has a lot of firepower from back of the court. Great backhand obviously Russian school of tennis. You know. Always great backhand. You know, he serves well and he's motivated. Obviously has nothing to lose. Bad luck for Grigor [Dimitrov] today. I thought he was playing better for a set and a half and again, an injury as well. Too many injuries. Honestly, I'm – you know I'm hoping that this is all temporary so we could kind of go back to what we are kind of used to. Without interruptions of practice and the 14-day quarantine people don't realise but I think the amount of injuries during this tournament has shown how much effect it has on the players' bodies. It's really – it's taken its toll unfortunately to all of us. But you know, a few of us remaining and Karatsev is in really good form. It's going to be a first encounter I look forward to.
In the end, despite commiting 18 more unforced errors (56-38), Djokovic finished winning more points than Zverev (149-139).
The world No.1 broke the German six times, while his serve was only broken on three occasions.
The 17-time major winner also won the ace count 23-21 and won 26 more first-serve points than the No.6 seed (86-60)
Djokovic also controlled the net, winning 74 per cent of points there compared to Zverev's 55 per cent.
Zverev takes a 5-4 lead in the tie-break with a huge ace down the middle.
Djokovic responds to take a 6-5 lead and bring up match point, but after a 17-shot rally, the eight-time Australian Open winner nets the backhand slice to make it 6-6.
The world No.1 gets another match point when Zverev's approach shot goes long, and at 7-6 up the Serb wins the tie-breaker 8-6 with his 23rd ace.
Djokovic ends up beating the German 6-7 (6-8), 6-2, 6-4, 7-6 (8-6) in three hours and 30 minutes.
The top seed will now face Russian qualifier Aslan Karatsev in the semi-finals.
This is Djokovic's ninth trip to the final four and he has never not won the tournament after getting this far.
Djokovic goes up 40-0, the third point especially spectacular, with Djokovic finishing a 25-shot really with a brilliant sliding backhand at full stretch on the base line sticking his racquet out and sending it just inside the tram line.
However, Zverev responds magnificently with four consecutive points of absolute brilliance to give himself a set point.
But Djokovic responds with another ace to bring it back to deuce and ends up surviving the Zverev challenge to level things up at 6-6 in the fourth set.
Zverev races through the 11th game in two-and-a-half minutes, bringing up another love game to lead Djokovic 6-5.
The world No.1 once again is serving to stay in the fourth set.
Zverev applies the pressure by pushing Djokovic to deuce, but the world No.1 responds with a pair of aces to level the fourth set 5-5.
The 17-time grand slam winner is now leading the ace count 21-19.
Zverev holds to love and now Djokovic is serving to stay in the fourth set at 4-5 down.
Djokovic saves a pair of break points to hang on for a gutsy hold, and this fourth set is now level at 4-4.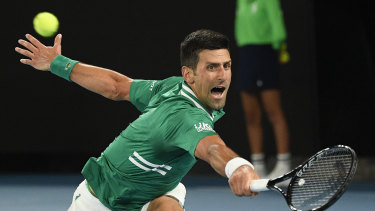 Djokovic consolidates the break after dropping a couple of points and the fourth set is now level at 3-3.
That sixth game featured an 18-shot and a 16-shot rally, while the Serbian also sent down two aces.
This would make the match very interesting and I doubt Zverev would mind!