Then again, there are bigger fish to fry. Department secretary Euan Wallace shared some exciting news with staff last week regarding his efforts to spruce up the department's internal marketing materials. "A power of work has also gone into our new branding," he said. "The friendly and bold colour palette – pink, orange and navy blue – signals the care, warmth and dedication we bring to our work. I hope you like it."
Tea break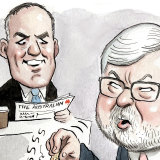 Friday at Parliament House is set to be a sizzler. At the Senate media diversity inquiry former prime minister Kevin Rudd gets star billing before morning tea, where he will have the chance to nurse a cuppa and a scotch finger while glowering at the inquiry's next witnesses, News Corp's monotonal executive chairman, Michael Miller, and his consigliere, Campbell Reid, the group executive, corporate affairs, policy and government relations.
Thankfully the committee will also have the pleasure of Guardian Australia's editor Lenore Taylor talking down to them after lunch.
Meanwhile, Rudd's media guy Jared Owens has made a submission. He used to be a journalist at News Corp's The Australian. That's quite the leap.
Owen's submission says it is made in a private capacity and that he is its "sole author". In case anyone was wondering. Apart from musing about how to fix the broken media ecosystem, Owens recounts claims that The Courier-Mail failed to publish a story about Pauline Hanson's controversial suggestion that autistic children be removed from mainstream classrooms.
Well, the paper published it online, but not in print. Owens says Courier-Mail staff were told the story was killed to keep Hanson sweet in an attempt to gain her support in passing Turnbull media ownership laws.
News sources say the yarn got pushed out because that night local legend Johnathan Thurston won the State of Origin match with a 78-minute field goal and the paper later published critical commentary about Hanson.
Owens ends by suggesting that what Australia really needs is a royal commission into the media. Yep, the suggestion that originated with his boss. Owens, however, does not mention that Rudd is the godfather of one of Chris Mitchell's (now former editor of The Australian) children.
Hometown hero
There's no sign of letting up in the pile-on on top of NAB's general manager of corporate communications Mark Alexander after the bank advised it would shut its doors in the country town where the spinner grew up.
NAB advised residents of the Victorian dairy town of Cobden earlier this month of plans to shut the branch after more than 130 years. What's awks for Alexander is that his mother still uses the branch. Alexander's former colleagues at the local Warrnambool Standard newspaper haven't been shy in letting him know of their disappointment. A videocast circulated by The Standard reflects on the bloke who once played for Cobden's reserve grade football team.
Interestingly, it's a story about Alexander's mother being served a cup of tea at the branch that has generated chatter. Was the decision to close the branch based on the fact its tellers had enough time to serve Mrs Alexander a cuppa? Not so, said Alexander. The decision to shut up shop was completely independent.
Across enemy lines
How's this for a surprise arrival? The Australian's former long-time national security editor Paul Maley has quietly taken a position as director of strategy and communications with Defence Minister Linda Reynolds. Maley, who didn't return CBD's calls on Tuesday, knows Reynolds' patch well, perhaps too well. During his time at the Oz, Maley was a harsh critic of Justice Paul Brereton's investigation of former SAS soldiers, including Ben Roberts-Smith, in his capacity as inspector-general of the Australian Defence Force. Roberts-Smith denies The Age's accusations of war crimes. Maley and his paper also gave Roberts-Smith and his legal representatives an uncritical platform (in the early days) through which the former soldier could hit back and deny the claims. Meanwhile, Minister Reynolds is a stout defender of the inspector-general and the investigation. Must have made for an interesting interview process.
Stephen Brook is a CBD columnist for The Sydney Morning Herald and The Age. He is a former features editor and media editor at The Australian, where he wrote the Media Diary column and spent six years in London working for The Guardian.
Samantha is a CBD columnist for The Age and The Sydney Morning Herald. She recently covered Victorian and NSW politics and business for News Corp, and previously worked for the Australian Financial Review.