But her look then seemed to say that this was personal, and perhaps it was: they last met two years ago in the Wimbledon final, and Halep won it.
Halep does a mean look of her own. It says, this is nothing personal, I'd do it to a kitten if I had to. But the kitten would have been safe enough this night with Williams to defend it.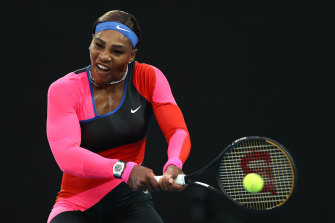 The terms were clear. It was Williams's power versus Halep's power to absorb it. In women's tennis, that's pi, the constant of these last two decades. It means that no matter what the rankings say, Williams is a permanent co-top seed in any major.
Halep said Williams' weight of shot did not scare her. She's spent a career playing and mostly beating power players.
But Williams' power did tell. Worse for Halep, it wasn't all she had. Conscious that at 39 years old, her strength might – might – be diminishing, Williams toiled between seasons to recover her youthful alacrity.
"Movement has always been one of my strengths, and so it's actually more natural for me to move than for me not," she said. "So it was just kind of, like, oh, that's how I used to move, so it's pretty good.
"I like retrieving balls. I mean, obviously I like to be on the offence, but I can play defence really well." And here it was. It left Halep without an angle.
But Halep without angles is still Halep. She won't take 0-40 for an answer. She had chances. Her tenacity saw to that. She has made a career with her back to the wall, that is, far behind the baseline.
By force of her on-court personality, she stole breaks on Williams early in the second set. "What's happening?" Williams asked her corner. In an empty arena, there are no secrets. What did happen is that Williams kept stealing the breaks back.
Loading
"I'm good at rallying and I have to embrace the things I'm good at," she said. "I'm good at playing power, I'm good at hitting a hundred balls. And that's one thing that's unique about me." One?
Halep foiled for a long time, but she, too, made errors. It's what happens when you know that anything off-pace will come back at you with interest, fees and charges. Halep wasn't humiliated, but she was put in her place.
"She's moving better and she hits strong, the balls," said Halep. "I feel like she's in a good shape now. It's really good game. She has a really good game." Pauses, smiles. "Always did."
Done, Williams rejoiced to think that she was still capable of new tricks. "I can make leaps and bounds and improve really fast," she said. "Over my career, that's something that's been super good in my game. I know I have the legs. It's exciting."
To her, yes. To Osaka and Barty, not so much.
Greg Baum is chief sports columnist and associate editor with The Age.