Australia's audacious plan – for Tests to be played in Perth, Brisbane and Sydney – is set to be discussed for the first time at a Lions board meeting in coming days, according to a report in the UK's Daily Telegraph.
UK media reports suggest a move to Australia is unlikely, despite RA's offer it would take no profits.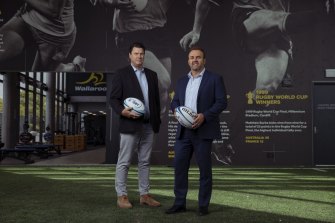 McLennan is still open to the idea, whereby teams would come into a quarantine hub – either in Sydney or Perth – before travelling the country for tour matches and Tests.
The hope is for stadiums to be at least 50 per cent full.
"We really need them to give us a nod and then we can go into full-blown planning," McLennan told the Herald. "We'd be thrilled to have them and the players would love it.
"[NSW Premier] Gladys [Berejiklian] has done a superb job facilitating these big events and I note the World Surfing League are now running two competitions in NSW. I'm confident we can pull it off successfully."
Asked whether he thought there was appetite from the Lions for the move, McLennan said: "I can't really tell but I think some key stakeholders would like the idea.
"I think everyone has to accept in a COVID-19 world nothing is normal so we have to solve problems laterally."
Loading
From a commercial perspective, the Lions and South Africa want to ensure as many spectators as possible can watch matches. They also need to satisfy Sky Sports, which has broadcast rights for the series.
RA showed its ability to pull together fixtures at short notice with last year's Tri Nations.
South Africa decided against coming to Australia at the last minute, upsetting the other nations involved, but the six-week tournament filled a gap in the international calendar.
Australia is set to host the British and Irish Lions in 2025.
Sport newsletter
Sports news, results and expert commentary delivered straight to your inbox each weekday. Sign up here.
Tom Decent is a journalist with The Sydney Morning Herald