Thanks for joining us for today's blog everyone!
We will be back tomorrow with all the major moments as the women's finalists have their last preparations and we find out who will face Novak Djokovic in the men's final.
We appreciate all the comments and tweets and please join us again tomorrow for our next Australian Open blog, until then bye for now.
Novak Djokovic told Jim Courier this was the best he has felt during the Australian Open:
The moment Novak Djokovic sealed his place in the Australian Open men's final:
Aslan Karatsev's unprecedented debut grand slam run has ended at the hands of Novak Djokovic, the Australian Open-winning machine advancing to his ninth final at Melbourne Park, having won each of his previous eight tournament deciders.
The Serbian beat Karatsev in straight sets 6-3, 6-4, 6-2 at Rod Laver Arena on Thursday night to set up a clash with either Greece's Stefanos Tsitsipas or Russia's Daniil Medvedev in Sunday evening's final.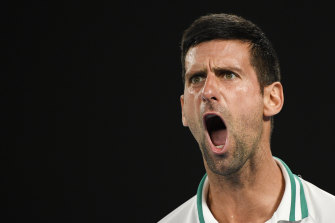 Karatsev, the 27-year-old Russian qualifier in his first grand slam, will go from world No.114 into the top 50 because of his breakout effort, which included wins over No.8 seed Diego Schwartzman, No.18 seed Grigor Dimitrov and No.20 seed Felix Auger Aliassime.
In the two latter matches Karatsev came from two sets to love and one set to love down to win.
Novak Djokovic speaks to Jim Courier after progressing to Sunday's Australian Open men's final.
On Aslan Karatsev's tournament:
"Huge congratulation to him. I don't think this has ever happened in the history of tennis so congratulations to him."
On how he felt:
"This is the best I've felt all tournament and I could swing through the ball. It came at the best time.
"I'll talk with my team. I have two days off now, I'll train at least one of these days, probably the day before the final. But recovery will be most important."
On Tsitsipas/Medvedev making the semi-final:
"It was probably the match of the tournament [his quarterfinal] and Daniil is probably the highest level in the past three or four months. He is on a winning streak.
"They are a very good matchup. I'm going to take the popcorn and enjoy it. I have zero preference who wins."
A ninth Australian Open title is within reach for Novak Djokovic after his straight sets win over Aslan Karatsev in tonight's semi-final.
Djokovic is sending love to the fans at Rod Laver Arena and pumping his first after a 6-3, 6-4, 6-2 win and he will get the extra day of rest ahead of Sunday's final.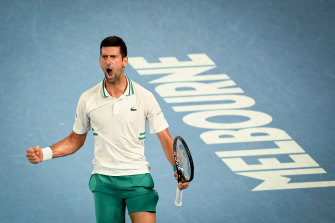 Karatsev is leaving the court to rich applause, including from Djokovic, and he deserves it.
What Djokovic deserves is his chance at title number nine at Melbourne Park and he will get that opportunity on centre court on Sunday night.
Novak Djokovic is on the verge of yet another Australian Open final.
Djokovic just completed a double-break over Aslan Karatsev and he will serve for the match when play resumes after a rest.
Djokovic has too many tricks and too many deft strokes for the Russian qualifier to keep up but for now he has earned himself a great place in history as the only man to have made the semi-finals in his tournament debut.
Over to you Novak….
Age photographer Eddie Jim is on duty at Rod Laver Arena tonight and here is a couple of the pictures he has filed of a big celebration from Novak Djokovic tonight.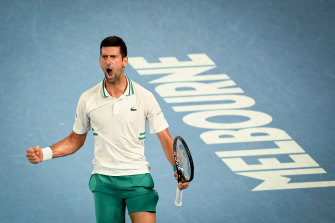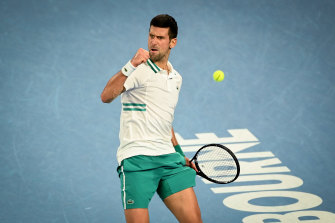 Djokovic has broken back against Karatsev and his break came right on the back of the Russian breaking his serve.
Djokovic is now up 3-2 and will be serving to extend his lead.
He is three wins from the Australian Open final but Karatsev won't go down without one hell of a fight.
Karatsev just dominated that game as Djokovic was powerless to hold his serve in the face of Karatsev's powerful forehand.
Todd Woodbridge described Karatsev's forehand winner as 'brutal' and he was right.
It's now 2-2 in the third set, the issue for Karatsev will be holding serve with Djokovic fired up and hunting any weakness in his strokes.