A member of the Swans' 2005 premiership team, a former holder of the club's games record and one of the finest forwards of his era, O'Loughlin's on-field credentials are widely known.
Loading
Since retiring from the game, O'Loughlin founded his own company, ARA Indigenous Services, in the facilities management industry, which employs about 200 people in property maintenance.
O'Loughlin has maintained a close connection to the Swans since hanging up the boots in 2009 after 303 games as head coach of the club's Academy from 2013-16. The charity he runs with former champion Adam Goodes, the GO Foundation, is based at the SCG.
About 10 per cent of the player cohort is Indigenous, more than triple the 2.8 per cent from the 2016 Census, but First Nations people have long been under-represented in coaching, senior management and administration roles in the AFL and its clubs.
"Hopefully there's some inspiration around that and people look up to that and go "he can do that, so can I", and being on a board is another one," O'Loughlin said.
But O'Loughlin said he was not nominating for the board just to provide the Swans with an Indigenous voice at the top level of the club.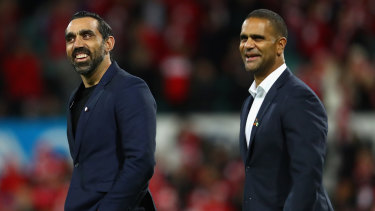 The Swans were strident in their defence of Goodes when the dual Brownlow Medallist was heckled by fans in the final years of his career after taking a leadership position against racism.
"Black, white, red or green, that's not why I'd be on the board," O'Loughlin said. "I'd love the opportunity to get on, be a part of it. To be quite honest, I don't think anyone's more passionate than me about the Sydney Swans Football Club.
"I've actually bled for the club. I'm a one-eyed Sydney Swans person, spent my whole adult life here.
"As someone who knows the football club intimately from how the organisation is run, from not having facilities to no success to winning premierships and having sustained success with the people who have come in, that's a big part of it.
"I also bring the business side of things. Owning a business, from a start up to where we are today as one of Australia's biggest Indigenous businesses, I bring some value.
"I love the game, I love the football club. If you have enthusiasm, passion and roll up your sleeves attitude you can accomplish most things."
The Swans have been hit harder than most clubs by the pandemic, recording a $6.1 million loss last year, while on the field they missed the finals for a second season in a row.
Andrew Wu writes on cricket and AFL for The Sydney Morning Herald