"Was there sexual intercourse going on?" asked Wilkinson.
"Yes. I woke up mid-rape, essentially," Higgins said. She told him to stop, at least half a dozen times, but he did not. "I was crying the whole way through it."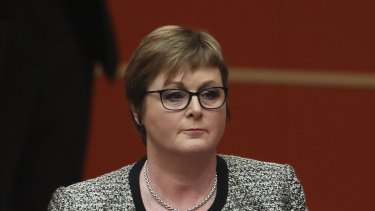 It is not easy to read, again, what Higgins went through, but it is fundamental to the questions about what happened next. The government's argument is that this was treated at first as a security breach, but that does not match how Higgins describes that morning. She says security found her in a state of undress. Was it really so hard for this to set off alarms to inform Morrison's office about sexual harassment or worse?
Higgins and the alleged rapist were questioned by Reynolds' chief-of-staff on the Tuesday. The man was fired. Two of Morrison's top advisers – chief of staff John Kunkel and principal private secretary Yaron Finkelstein – knew of the security breach and the termination that day.
On Thursday, Higgins told Reynolds' chief-of-staff more about what happened – that she had woken with the man on top of her. Then Reynolds had a meeting with Higgins about this the next Monday, April 1 – stupidly arranged in the same room as the alleged rape.
The chain-of-command was clear and it failed. Reynolds knew of a serious criminal matter in her own office and did not take it to the Prime Minister. She offered Higgins support, but not enough. She appears to have had a meeting with an assistant federal police commissioner. But did she really take charge? It was not for Reynolds to force Higgins to go to police. Even so, there is no evidence she did anything to fix the culture.
This was only a few months after Reynolds had warned of "bullying and intimidation" during the fall of Malcolm Turnbull. She knew of the wider problem. But here is another key fact: she was a newcomer to cabinet. She had only been promoted to the defence industry portfolio three weeks before the alleged rape. (She became Defence Minister after the election in May.)
Why did Reynolds not do more? She stonewalled in the Senate on Wednesday. It was an abysmal performance; she would not say what she knew and when. She thought better of this on Thursday and apologised for the fact that Higgins felt she was not supported. "At all times, to me, Brittany's welfare and her right to privacy were paramount," she said.
A man in this position might not last long. If the defence minister was Lyndon Reynolds he might be gone before Parliament meets on Monday. But dumping Reynolds would make a woman take the fall while Morrison walks on, an outcome full of political risk. The Prime Minister has his own problems with accountability. It is impossible to square the circle, right now, on what his office knew. Higgins says Finkelstein called her last November to "check in" when the ABC's Four Corners reported on the treatment of women in the Liberal party. Morrison says the phone records do not show this call.
The call makes no sense if Finkelstein thought Higgins was only involved in a security breach, so proof of the call would require this trusted adviser to fall on his sword – not only for knowing more than claimed but for concealing the call.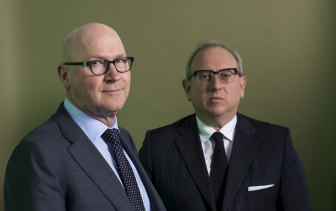 Morrison made worthy promises this week to review the culture of politics, the structure for staff to make complaints and the workplace in Parliament. These seem good ideas. The trouble is they come so late.
Two Liberal advisers, Chelsey Potter and Dhanya Mani, told this newspaper in July 2019 they were subject to sexual harassment. They described events over past years. Their warning came only four months after Reynolds heard Higgins tell of rape. And the government continued on its complacent way. When the Liberals released a code of conduct six months later, Liberal women declared it unenforceable.
Loading
Higgins spoke to police in Parliament House days after the alleged rape, but she did not take it further because she felt she had to choose between justice and her career. There should be no surprise she pursues her cause through the media. She will gain more change to the system from her media interviews than from a police statement. The investigation will start when Higgins signs that statement, but something else will stop at the same time. The politicians who have to answer for their decisions will probably use that moment to clam up, saying they have to wait on the police inquiries.
Higgins made sure they did not have that escape clause this week. She can sign a statement if and when it suits her. Not when it suits them.
David Crowe is chief political correspondent for The Sydney Morning Herald and The Age.