One EPA briefing paper, dated April 9, 2020, says in part "unburnt forests are needed to deliver on wood supply agreements (to access blackbutt timber for Boral.) While other burnt sites could be available FCNSW [Forestry Corp] is not inclined to replan their existing schedule to avoid logging in these unburnt forests … FCNSW has declined EPA's request for additional site specific conditions to be applied to bolster koala protections in these forests."
Loading
The document notes that Forestry Corp was concerned that the government might be liable for a penalty should it not be able to fulfil the contracts and was seeking legal advice on the issue because "their minister [Mr Barilaro] asked them to deliver on contractual obligations."
In an email on March 14 an EPA executive warns other senior officers that Premier Gladys Berejiklian and Minister Andrew Constance were to meet with timber industry representatives in Eden the following day. The email warned that pressure was being increased for the EPA to approve logging in a known habitat for bandicoots and potoroos "listed as the most impacted species" before surveys to see if they had survived the fires had been completed.
In May the same executive warned senior colleagues in an email, "It's heating up again on the supply side so a few tensions are flaring with FC and the timber industry. Just be aware of this, especially on the South Coast."
In September, Mr Barilaro's department sent a letter to the EPA saying in part that while it had sought to restrict operations after the fires it was legally obliged to meet supply requirements.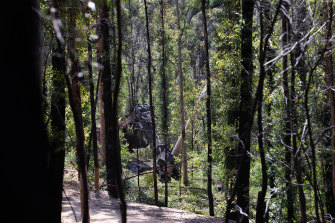 After the devastating black summer fires, the EPA and Forestry Corp agreed that the existing set of environmental rules on logging in native forests, known as the Coastal Integrated Forestry Operation Approval, or CIFOA, was no longer suitable as no one had envisaged so much of the state could be burnt while it was being negotiated.
The two agencies instead agreed to so-called "Site Specific Conditions" to manage safe logging. Under this process, Forestry Corp notified the EPA which sections of forests it wants to log, and the EPA set conditions limiting harvesting that are designed to help protect the remnant and recovering forests and wildlife.
Referring to Forestry Corp's decision to resume operations under pre-fire rules on the South Coast, NSW independent MP Justin Field said it was "unconscionable that John Barilaro as Forestry Minister is pushing for logging in areas recognised as high risk for environmental impacts."
"This is the most fire impacted part of the state, more than 80 per cent was burnt and many much loved and threatened species are at risk of extinction, yet the Deputy Premier seems determined to log every last tree."
A spokeswoman for Mr Barilaro said he had given no instruction to Forestry Corp to meet pre-fire logging contracts and that Forestry Corp had a mandate to harvest timber responsibly.
"The Deputy Premier will not respond to any assumptions made, or internal surmising, by unelected officials at the EPA," she said. "It is a regulatory body, not a policy maker. The Coastal IFOA was remade in 2018, in a decision by Cabinet."
A spokeswoman for Forestry Corp said negotiations between the agencies to resume logging under the CIFOA had not delivered and that the organisation had decided to resume operations on the South Coast and Eden under the regulations "with additional environmental safeguards on top".
Nick O'Malley is National Environment and Climate Editor for The Sydney Morning Herald and The Age. He is also a senior writer and a former US correspondent.
Most Viewed in Environment
Loading