Meanwhile, NSW Health provided further details about the Pfizer vaccine rollout to begin on Monday, with 50 to 100 frontline workers an hour to get vaccinated at each of three hubs at Liverpool, Royal Prince Alfred and Westmead hospitals.
One of them, aged care nurse Peter Messer, said he had no concerns about the safety of the vaccination and had signed up to receive the Pfizer jab "because I'm so confident".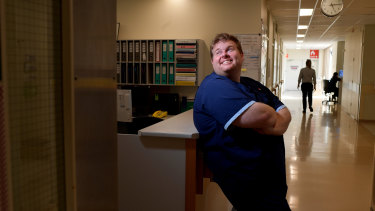 Patients will undergo a COVID-19 screening process, including a temperature check and questionnaire, on arrival. After vaccination, patients will move to the post-jab observation area before going home, with the process expected to take about 90 minutes per person.
The state intends to vaccinate 35,000 high-risk frontline workers – such as hotel quarantine staff, police and airport workers – with their first of two jabs in the next three weeks.
The debate over how to manage the hotel quarantine program has seen health experts call for regional quarantine stations similar to the Howard Springs facility in the Northern Territory.
Victoria's Premier Daniel Andrews last week said his government wanted to build a cabin-style accommodation hub outside the Melbourne CBD – with Melbourne and Avalon airports the "stand-out candidates".
Prime Minister Scott Morrison has said moving hotel quarantine to regional areas would only create "another set of risks", including being far from major hospitals.
Regions have also been reluctant to embrace the idea. Dubbo mayor Ben Shields said a quarantine facility in Dubbo would be established "over my dead body".
Cr Shields said it would be risky to fly overseas travellers to Dubbo after they had landed at an international airport. He said the city in the Central West of NSW did not have hotels that could be easily secured. Our medical facilities compared to the city are absolutely atrocious," he said.
"What we've got is a thought bubble by people in power who clearly lack common sense or who are being nasty to the bush for the sake of it."
Loading
NSW Agriculture Minister Adam Marshall last month said a national quarantine centre for seasonal workers should be established in a regional location.
But Health Minister Brad Hazzard rejected moving the state's hotel quarantine system to the regions.
"We do not believe there would be any advantages, in fact, there would be distinct disadvantages, for us to be considering moving our public health hotels out of the Sydney regional area," Mr Hazzard said in January.
NSW last week increased its intake of returned travellers back to the previous total of 3000 people a week.
Loading
Linda Scott, president of the Australian Local Government Association and City of Sydney councillor, said NSW mayors understood the need to share the responsibility of bringing stranded Australians home.
"However, many NSW regional centres have emergency and health services under significant pressure, and remote communities have large numbers of vulnerable communities," she said.
"Bringing hotel quarantine to regional areas could push strained local health services to breaking point."
Cr Scott also said local government should be given a say in deciding where to local regional quarantine centres.
Cr Mack, the Albury mayor, said the federal government should "step in" and set up remote facilities that would have on-site medical services rather than rely on regional hospitals.
"We've got a great airport," he said. "But our health facilities are in the dark ages."
Andrew Taylor is a Senior Reporter for The Sydney Morning Herald.