Lucy Walker, pharmacist and owner of the TerryWhite Chemmart pharmacy in Goondiwindi, said there was definitely a need for the service in the region.
"One of the big barriers to health care in rural areas is access," she said. "I could see it as a good way of overcoming the tyranny of distance."
Ms Walker said patients were a lot more comfortable using telehealth offers and talking to doctors by video link or phone, but they still had to travel to pick up their medication from the pharmacy.
"Having that ability now if they are not well or if they have a sick child at home to deliver medication to them will be great," she said. "There is a carrier area that we can put a package into and it carries up to three kilograms in cold storage. So if we are doing a flu vaccination clinic at a little town and we run out of stock we could get the drone to deliver more."
Melbourne-based Swoop Aero was launched in 2017 and has been using drones to deliver medical supplies in Malawi, the Democratic Republic of Congo and Mozambique backed by investors including venture capital firms Right Click Capital and Tempus Partners.
Founder and chief executive Eric Peck said Swoop Aero had just been looking for the right partners and opportunity to deploy its technology in Australia.
"Right from the early days we knew there was a lot of demand for this in Australia," he said. "This is something quite new for Australia, carriage of medical supplies across across state lines over long distance by drone, it's really exciting."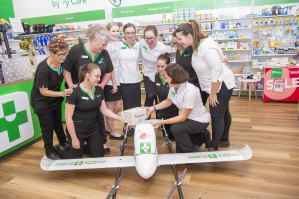 The trial has been conducted in partnership with TerryWhite Chemmart and Australia's largest healthcare wholesaler Symbion, which will fund the cost of the initial drone deliveries.
Over time Mr Peck said customers would pay for the deliveries, which he expected would be similarly priced to a courier service.
Loading
Mr Peck said the drones had been trialled extensively to ensure they could fly safely and could reaching speeds of 115 kilometres an hour and withstand extremes in weather including 50 kilometre per hour winds and heavy rain.
"If [a drone] were to be hit something or potentially have a wedge tail eagle come after it, it would be highly, highly unlikely that it would be able to damage the aircraft to the point that it would be unable to continue flying," he said.
"If something really goes wrong, it can go into an emergency landing mode where it will look for a safe place to land right in front of it and hover down and land."
Market Recap
A concise wrap of the day on the markets, breaking business news and expert opinion delivered to your inbox each afternoon. Sign up here.
Cara is the small business editor for The Age and The Sydney Morning Herald based in Melbourne