"You know, if you go back in time, should I let that guy into my house? No. It happened," Thompson said.
"I never thought I'd get to prison at all", says Thompson, "I was a drug user. At no point did I ever sell drugs".
During that time, Thompson began regular counselling sessions with Melbourne-based psychologist, Sandy Rea.
"[Ms Rea] was fantastic. This man was crying after about three minutes. She got me. She has the ability to just open people up," Thompson said.
Ms Rea diagnosed Thompson with post-traumatic stress disorder, following his stint at Essendon during the infamous "supplements saga".
"I didn't think our club really supported its people," said Thompson, who left Geelong after two flags to join Essendon favourite son James Hird in a coaching role at the Bombers.
The club "self-reported" the possible use of performance-enhancing drugs to the AFL in February 2013, triggering the infamous doping scandal.
Thompson was fined $30,000 for his part in the injections program and served as senior coach when Hird was suspended in 2014.
As part of his treatment, Ms Rea ordered Thompson to reach out to five people he cared about each week.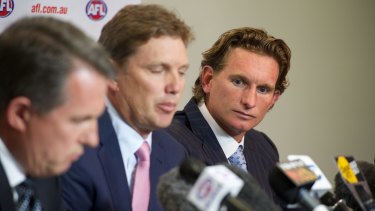 Thompson says the reconnection with his loved ones, changed his life.
"It's incredible. It was the most powerful thing that's ever happened to me. It's almost like the build-up of years and years and years of emotion, you know anger, the whole lot was released".
It's a lesson he wants others to hear.
"Think about what you've done and know that people who love you will forgive you for whatever you do. Don't avoid them" he said.
Thompson said he had found a purpose in his life away from the AFL bubble.
He's taken up woodwork and has found that working on tables and cheese boards keeps his mind focused.
"I've got the purpose and the purpose is to come and do some, some woodwork with all my mates".
Mark Thompson's interview with A Current Affair airs from 7pm Monday