After years of painstaking work, the team – part of Australia's largest rock art dating project – discovered that many of the rock paintings cover or are covered by the nests of mud wasps, jammed into crevices on the rock walls.
Unlike the paintings themselves, the team found these nests can be reliably dated, giving for the first time a high-quality estimate of Australia's oldest rock art: between 13,000 and 17,500 years old. The results were published in Nature Human Behaviour on Tuesday.
A kangaroo, painted on the sloping ceiling of a rock shelter in Unghango clan estate in Balanggarra country, is the oldest of the lot: about 17,300 years old.
For context: that's about 14,800 years before Stonehenge was erected and the Giza pyramids went up.
Dr Sven Ouzman, from the University of Western Australia's school of social sciences, who is one of the project's chief investigators, said: "This iconic kangaroo image is visually similar to rock paintings from islands in south-east Asia dated to more than 40,000 years ago, suggesting a cultural link – and hinting at still older rock art in Australia."
Mud wasps and humans have many of the same requirements for a home: protection from the beating sun and cover from the flooding rains of the Kimberley's wet season. Hence, the same rock shelters that contain rock art also contain the nests of mud wasps; so many that the original artists often simply painted over them.
Stream-bed ochre, of which the paintings are made, is an iron oxide so cannot be accurately dated, but wasp nests can.
The wasps built their nests from small balls of mud they rolled between their mandibles and stuck onto the rock. The mud picks up all sorts of things, like seeds, sand and, the team discovered, charcoal from nearby bushfires – which can be precisely dated. Over thousands of years, the nests become fossilised, sealing in the charcoal fragments.
The team spent years building trust with the traditional owners and practising their technique, aware they would get only one shot.
"It is nerve-wracking," said the University of Melbourne's Dr Damien Finch, who led the radiocarbon dating.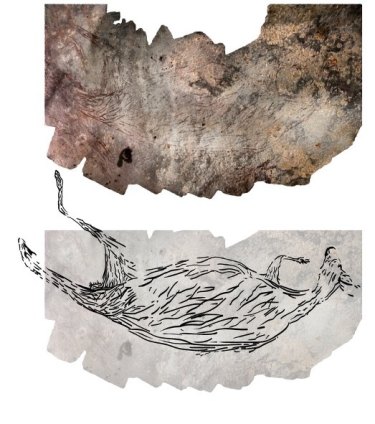 "We hit them with a little hammer and a tiny little chisel, a couple of millimetres long. Sometimes we used a dental chisel – the blade is about four millimetres wide. If you strike it just right … the nest will fracture along the line where it meets the wall."
The technique produces tiny amounts of material, a fraction of a teaspoon. But it was enough to date 16 paintings across the Kimberley rock shelters.
Balanggarra Aboriginal Corporation chair Cissy Gore-Birch said it was important that Indigenous knowledge and stories were not lost and continued to be shared for generations to come.
"The dating of this oldest known painting in an Australian rock shelter holds a great deal of significance for Aboriginal people and Australians and is an important part of Australia's history."
Examine newsletter
Science and health explained and analysed with a rigorous focus on the evidence. Examine is a weekly newsletter by science reporter Liam Mannix. Sign up to receive it every Tuesday. 
Liam is The Age and The Sydney Morning Herald's science reporter