Loading
The measures range from creating so-called insurance populations of critically endangered species such as the spotted tree frog and eastern bristlebird, to conducting more surveys to understand how species such as the smoky mouse is faring after losing about 90 per cent of its habitat to the flames.
The strategy, which addresses some of the recommendations of the NSW Bushfire inquiry, includes reviewing the conservation status of bushfire affected ecosystems to help prioritise fire protection efforts such as those deployed to spare the Wollemi pines.
Increased use of spatial mapping, for instance, will identify and protect World Heritage values for fire and other threats. Of the 37 Commonwealth-listed threatened ecological communities identified as having one or more major post-fire threats, 26 occur in NSW, the strategy notes.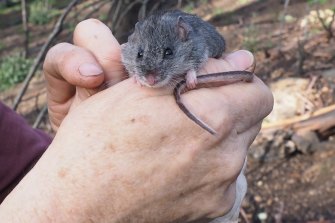 David Bowman, director of the University of Tasmania's Fire centre, said that while the measures made sense, they would need to be backed up with significant funding if they were to be effective.
Loading
"It's one thing to have aspirations, it's another to have the budgets to support them," Professor Bowman said, adding that support needed to last several generations for the flora and fauna staff were trying to protect. "It's expensive, and requires sustained effort."
The strategy stated Parks staff carried out as much as 2000 hours of aerial shooting in 83 national parks in the year to January 2021. As of September 15 last year, the program had removed more than 16,000 feral animals, including 2793 deer, 7271 pigs and 6022 goats.
Andrew Cox, chief executive of the Invasive Species Council, said it was notable that feral horses were left off the list despite their damage, particularly in the Kosciuszko National Park, one of the areas hardest hit by the fires.
Loading
The one reference to horses was a section noting the construction of fencing to help reduce the effects of the animals on the only habitat of the stocky galaxias fish. The fish are restricted to just four kilometres of Tantangara Creek.
While the fences were "good as a temporary measure", Mr Cox said, "in the medium term they need to get the horses out of there."
The government said this month that as many as 382 brumbies had been removed since last winter. Mr Cox said that given the rate herds were growing, staff needed to remove 2000 horses a year "to make a dent" in numbers.
Peter Hannam writes on environment issues for The Sydney Morning Herald and The Age.
Most Viewed in Environment
Loading