Make way, Packers
Australia's latest sporting media mogul is a 27-year-old from Blacktown in western Sydney who has blindsided industry giants by offering a reported $60 million for the rights to soccer's UEFA Champions League.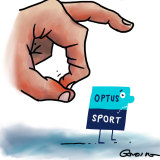 Dylan Azzopardi has gone from managing his dad's building company to turning startup streaming service Sports Flick into a media force to be reckoned with in two years. And now Sports Flick is believed to have trumped industry giant Optus Sport to score the broadcast rights to the European soccer tournament, which is one of the most watched competitions in the world. The company behind Sports Flick – known as DCA Sydney Enterprises – is headed by Azzopardi and his 30-year-old brother Justin Azzopardi. Incredibly, it counts Dylan's home in Riverstone as its registered business address. Company records show the two brothers from Blacktown have secured four shareholders, including 28-year-old Arndell Park smash repairer Nathan Vella, 30-year-old Blacktown local Aziz Khalaf, and company chief financial officer Karla Pichardo – who controls 15 per cent of the company's shares.
Pichardo hails from Nicaragua, which might go some way to explaining the platform's decision early on to secure the rights to the Liga Primera de Nicaragua.
Another shareholder? The West Australian branch of Red Star Belgrade Rugby League Pty Ltd, which is an Australian outpost of the Serbian-based rugby league team coached by Australia's former NRL coach Phil Economidis. It is owned by Perth-based footy nut Colin Kleyweg, who also happens to be Sports Flick's commercial director. He holds 5 per cent.
The deal – which is yet to be announced – is a solid breakaway from Sports Flick's catalogue, which includes some niche offerings such as bareknuckle fighting, Nicaraguan football and Serbian rugby league. The deal has left industry giant Optus Sport scrambling for a marquee event to anchor the telco's streaming platform. That's got to hurt, particularly as the whole thing started out as a whim.
"I was working for my dad's building company and was so bored on the job so one day I decided to start my own digital broadcasting company into Australia," Azzopardi told Sporting News last year.
Longstanding plan
Former banking royal commission chief Kenneth Hayne jetted from Melbourne to Canberra and NSW Governor Margaret Beazley drove the three hours from Sydney to the nation's capital to watch Jacqueline Gleeson be sworn in at the High Court of Australia. But there was one notable absentee: Attorney-General Christian Porter. He was represented at the ceremony on Monday by Queensland senator Amanda Stoker who is Assistant to the Attorney-General. It's worth remembering Porter moved heaven and earth – sorry, ACT Quarantine officials – to attend Victorian appointee Simon Steward's swearing-in on February 1. Readers will recall Porter secured a special dispensation on February 1 to leave self-isolation in Canberra to attend Steward's official swearing-in to the High Court. A spokesman said Porter is back in Western Australia and had a longstanding plan for Stoker to deputise.
Qantas bounty
As a man said to own the greatest collection of bound copies of The Times outside Britain (Charles Sturt University had a fire sale when it ran out of storage space), Deputy Prime Minister Michael McCormack loves his memorabilia.
Thus the Nationals leader and transport minister is now the proud recipient of a 747 half bar cart from Qantas, which stands proudly in the member for Riverina's Wagga Wagga electorate office, no doubt bemusing his constituents.
Sound familiar? Labor leader Anthony Albanese is another grateful recipient of one of the airline's drinks carts, which were once in service on Qantas' now-retired 747-400 jets.
And it's a gift money can't buy. Even priced at a stiff $947, the carts – which stocked a range of business-class items, including champagne, mini-bottles of red and white wine, Tim Tams and iconic Qantas pyjamas – sold out.
But it is not the only gift McCormack has accepted from Qantas. In July 2019 he took possession of a far more up-to-date toy, a Qantas Boeing 787-9 model aeroplane, more commonly known as the Dreamliner.
Stephen Brook is a CBD columnist for The Sydney Morning Herald and The Age. He is a former features editor and media editor at The Australian, where he wrote the Media Diary column and spent six years in London working for The Guardian.
Samantha is a CBD columnist for The Age and The Sydney Morning Herald. She recently covered Victorian and NSW politics and business for News Corp, and previously worked for the Australian Financial Review.