The university has processed at least 53,600 samples gathered by the group.
The study revealed that the Yarra and Maribyrnong rivers were carrying an estimated combined total of 2.5 billion pieces of rubbish, including plastics, polystyrene fragments and cigarette butts in the year to February 2020.
It showed that litter in the Yarra more than doubled between 2018 and 2019. In the year to January 2019 an estimated 1.4 billion pieces of litter flowed into Port Phillip Bay, but the problem has since grown dramatically worse.
Before the pandemic, the trawls were conducted each month, with the rubbish gathered used to estimate the total amount in the river systems.
The litter was retrieved from the water's surface, indicating much more rubbish may be lying in the sediment.
"In both rivers, the vast bulk of the litter caught consisted of hard plastic remnants of broken-up plastic items, followed by polystyrene and soft plastics," the report said.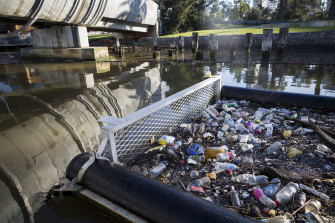 Polystyrene was a bigger problem in the Yarra, while the Maribyrnong carried proportionally higher amounts of plastic bottle caps, straws, twine and cigarette butts.
However, there was a sustained decline in plastic straws being found in the water, reflecting a broader move away from plastic straws in recent years.
Loading
The report comes as the state government confirmed on the weekend it would phase out single-use plastics by 2023.
The prohibition will apply to all restaurants and cafes, but medical and scientific equipment will be exempt.
Plastic drink bottles are not included in the single-use plastics ban but will be covered by an impending container deposit scheme, which will let Victorians exchange bottles for some type of reward.
The government cited figures showing that each Victorian sends an average of 68 kilograms of plastic waste to landfill each year.
Port Phillip EcoCentre's executive director April Seymore said the multi-purpose nature of plastic also made it dangerous.
"It stretches without breaking. In the sun it turns into tiny brittle shards," she said.
"It is so lightweight that wind and water carries it."
Microplastics pose a major danger to wildlife, with some marine animals mistaking plastic fragments for food.
Ms Seymore said while increased litter was linked to population growth, that did not fully explain the rapid rise in pollution of the waterways.
Loading
"We're getting plastic pollution faster than we're getting people."
A state government spokeswoman said Melbourne Water had done a six-month waterway "blitz" with crews collecting 640 cubic metres of rubbish across the Yarra and Maribyrnong rivers as well as other waterways.
"Tackling plastic pollution and programs to collect rubbish along the waterways are all part of the government's approach to protect our rivers and creeks," she said.
"We have just announced a statewide ban on single-use plastics, which contribute to litter across Victoria. This is in addition to our ban of single-use plastic bags in 2019."
RMIT Plastics Lab project director Graeme Allinson said it was crucial to determine how much plastic was polluting the environment.
"If we don't look to see what's in the environment, we don't know what the scale of the problem is," he said.
Associate Professor Allinson called for a major change in Victorians' attitudes towards waste disposal. He said polystyrene litter most likely came from building sites and food packaging.
"The solution to the problem is actually on land, not in the rivers themselves," he said.
"We have to try and intercept the bits of fugitive rubbish that end up in the landscape."
Start your day informed
Our Morning Edition newsletter is a curated guide to the most important and interesting stories, analysis and insights. Sign up here.
Benjamin is The Age's regional editor. He was previously state rounds reporter and has also covered education for The Age.