"Capital is becoming harder and harder to access," Ms Constable said. "If they are doing things well, we would expect our companies can ensure future capital and security around market access, as more and more pressure is applied on companies to prove that they are responsible."
Indigenous leaders welcomed the industry's adoption of the sustainability system, describing it as an "important step in the right direction" and a useful tool for greater transparency in assessing miners' engagements with First Nations people. However, they warned it was "no substitute for legislative reform".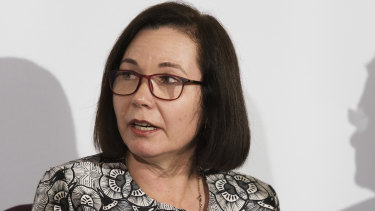 "The initiatives are inherently limited and their benefits depend on a number of factors, including how they relate to other regulated and non-regulated policies," said Kado Muir, co-chair of the First Nations Heritage Protection Alliance, representing Aboriginal and Torres Strait Islander land groups. "This cannot be a substitute for appropriate legislation and regulation, but can in fact enhance those protections."
A sweeping one-in-10-year review of Australia's environmental laws by former competition watchdog Graeme Samuel has found the federal government should bring in greater protections for Indigenous heritage "immediately". It has also called for a set of national standards designed by an Indigenous representative committee to enshrine in law protection of First Nations cultural heritage.
The Aboriginal Areas Protection Authority, a statutory body which oversees protection of sacred sites in the Northern Territory, told a parliamentary inquiry into the Juukan Gorge disaster on Tuesday that federal laws – specifically the Aboriginal and Torres Strait Islander Heritage Protection Act and Environment Protection and Biodiversity Conservation Act – were failing.
Loading
"Our places, our sites, our history deserve better, and we demand strong reforms from this inquiry," said the Authority's chairman, Bobby Nunggumajbarr. "When strong reforms are enacted and our places are protected, all Australians will benefit."
Also appearing at the inquiry on Tuesday, the National Environmental Law Association said there "should be national standards that mean there is consistency in decision making because generally it's a long process that can span beyond political terms".
Federal Environment Minister Sussan Ley has developed a set of standards that do not include Mr Samuel's Indigenous recommendations. A bill to establish these standards is before a Senate Committee, which will report by June.