The exhibition was a triumph. The Argus called McCubbin a "poet in colours" and singled out The Pioneer for "that sympathy with nature which distinguishes this artist's work", while The Age said he had "reached the maturity of his powers" and The Pioneer marked his passage "to monumental art".
Little Girl caught critics' eyes, too: "It's a picture to make you feel young, again," one gushed. The Age called it "one of the artist's finest efforts"
Auction house Smith & Singer's Geoffrey Smith believes it was the perfect foil to The Pioneer. "It's intimate, private, and enigmatic, as opposed to grand, public, and literal," he says.
McCubbin was pleased with it, too. "I honestly think that the work I put in was the best I have ever done," he wrote to fellow artist Tom Roberts.
McCubbin's exhibition at the Athenaeum rode the wave of nationalist sentiment that swept through Australia after Federation in 1901.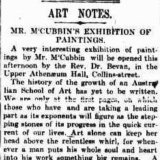 Until then artists had depicted the Australian bush as terrifying and hostile. Grim tales of children lost in the forest gripped colonial society. They inspired melancholic works like McCubbin's 1886 painting Lost, where a girl stands weeping amid the ghostly eucalypts that threaten to engulf her.
But in the new Australia the bush was a magical playground populated by benevolent spirits and mystical creatures.
Cooper's doppelganger in What the Little Girl Saw in the Bush stands at the threshold between civilisation and the untamed bush, neither lost nor scared.
Geoffrey Smith says it is "the most significant painting" by McCubbin he has ever offered at auction.
It was painted after McCubbin moved with his wife, Annie, and their five children to the forested slopes of Mt Macedon to take up residence in the Gothic villa they named Fontainebleau.
Cooper, who once ran Leonard Joel's art department, inherited the painting after her father's death in 2019.
"Even in his last years," she says, "when Dad was suffering from dementia, he'd ask me, 'what are you going to do with the McCubbin?' He never forgot how much it meant to me."
In need of some good news?