A man who shot two brothers, killing one and injuring the other, has been acquitted of criminal charges after a jury found he acted in self-defence.
Ahmad El-Chakik was found not guilty of manslaughter and recklessly causing seriously injury by a Supreme Court jury on Friday after he shot Edmund and Elvis Shabani outside a tyre shop in Ravenhall on October 20, 2017.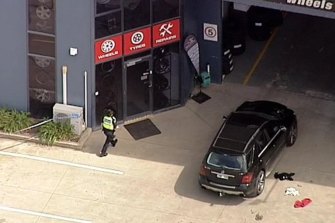 Edmund Shabani died from wounds to the chest and abdomen while Elvis was shot in both legs but survived.
Mr El-Chakik was tried on charges of murder, attempted murder and intentionally causing serious injury last year and again earlier this year, but the juries in both trials were discharged when they were unable to reach a verdict.
Mr El-Chakik, 44, wiped a hand across his face when the retrial jury handed down its verdict on Friday. He was released from custody soon after.
Mr El-Chakik argued he shot the Shabani brothers in self-defence as they grappled with him while he was seated in his four-wheel-drive outside Westwood Wheels & Tyres.
Defence counsel Glenn Casement told the jury Mr El-Chakik feared the Shabanis because he believed they were members of the Albanian mafia, were violent men and "ran" Melbourne's western suburbs.
Mr Casement argued that although Mr El-Chakik had a gun, he didn't want to use it and only did so when in fear for his life and "under siege" from the brothers. The trial heard Mr El-Chakik told a police officer after the shooting: "I didn't mean to kill no one, mate. I wouldn't kill anything, but it was my life or theirs."
Prosecutors had argued Mr El-Chakik did not act in self-defence and that his actions were grossly disproportionate as he grappled with the men.