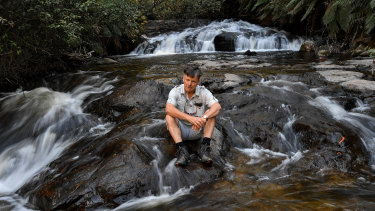 "We believe there is compelling evidence from coupes that have already been extensively logged adjacent to the Snobs Creek valley that regeneration of the forest has failed," he says.
"The deforestation has resulted in large-scale soil disturbance, erosion and infestations of weeds in what was once diverse forest."
Mr Falconer says introduced species like trout only survive in a range of five to 10 nephelometric turbidity units (a measurement of how much sediment is in water) and "anything over 10 is a bit dicey".
Since logging in the catchment occurred two years ago, Mr Falconer has been monitoring the creek's turbidity himself and says there are days where it has gone far above safe turbidity levels for fish.
But the Victorian Fisheries Authority disagrees. It regularly monitors the quality of the water entering the Snobs Creek Hatchery, which remains "excellent", a government spokesperson said. The hatchery is successfully operating at full capacity, they added.
"The VFA does not believe timber harvesting in the Rubicon or Snobs Creek valleys will have any impact on fish production," they said.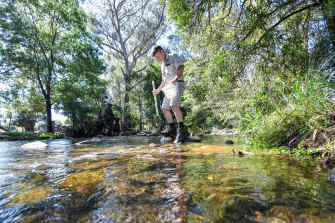 The Rubicon region, which includes the Snobs Creek valley and nearby Mount Torbrek, has been extensively logged over the past 80 years and is among some of the most heavily logged areas in Victoria, says Chris Taylor, a research fellow at the Fenner School of Environment and Society at Australian National University.
The area around the Snobs Creek falls is the only remaining area of mountain and alpine ash in the Rubicon region that hasn't been logged or burnt in bushfires, he says.
"These areas are forest refuges – they are lifeboats carrying species into the future in a highly disturbed landscape. And what they are doing now is logging those lifeboats."
In 2017, the Victorian government announced it would immediately stop logging old-growth forest, and end native forest logging by 2030.
But in the wake of the devastating 2020 bushfires, conservation groups such as the Victorian National Parks Association have warned forest refuges are more critical than ever for endangered animals like the greater glider and leadbeater's possum, and should not be logged.
In a statement, the Murrindindi Council said the broader region around Snobs Creek Falls is a significant tourism attraction, with almost 80 per cent of all visitors coming to this area to connect with its natural beauty.
Loading
"Council is concerned this could all be lost with the current logging being undertaken," the statement says.
A spokesperson for VicForests said special protections were put in place for priority habitat and species of concern if they were found ahead of harvesting, and all logging would be followed by a regeneration program.
"This harvesting is essential to restore supply into timber processors that have been significantly impacted by supply constraints during 2020," they said.
"We have worked closely with the Victorian Fisheries Authority regarding our operations in the Snobs Creek area for many years."
In 1996 the state government introduced legislation called the Forests (Wood Pulp Agreement) Act that mandates what volume of wood each year the government must supply to the Maryvale pulp mill. This expires in 2030.
Start your day informed
Our Morning Edition newsletter is a curated guide to the most important and interesting stories, analysis and insights. Sign up here.
Miki Perkins is a senior journalist and Environment Reporter at The Age.
Most Viewed in Environment
Loading