Loading
The allegations in Four Corners – which Porter fiercely denied – were as nothing to the current crop, but they were highly problematic given it was Porter's department overseeing such things as the investigation of former High Court justice Dyson Heydon on allegations of sexual harassment and framing the response to Sex Discrimination Commissioner Kate Jenkins's report on sexual harassment in the workplace.
How much more problematic are they now? Is it not bleeding obvious that, given a proportion of the population – rightly or wrongly, for richer or poorer, believe the Attorney-General guilty of the most heinous crime, he cannot just keep going on until there is some such inquiry?
For those who disagree, what is your alternative? Business as usual? There can be no business as usual with such shocking allegations hanging over him. It cuts through to the very heart of the people's respect for the institutions that rule us.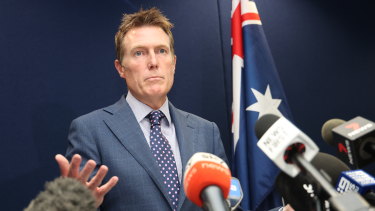 Why is it so?
Given the extremely uncomfortable conversation this country has been having in recent weeks about the appalling prevalence of sexual assault against women in this country, here is a question posed by @lilbirdey on Twitter that deserves a wider airing.
"Why," she asks, "does nearly every woman know a woman that has been raped/sexually assaulted but no man knows a rapist?"
I know. It is shocking, yes? But a question that deserves to be asked.
Sliding (airport) doors
And then there was the story of actor Mark Wahlberg and the co-creator of Family Guy, Seth MacFarlane, who, on September 11, 2001, were both booked on American Airlines Flight 11 from Boston to Los Angeles, only for Wahlberg to change plans at the last moment, while McFarlane missed his flight by minutes due to a bad hangover. In the case of McFarlane, he was furious and sat in an airport cafe, only to see on the television screen what happened a short time later as Flight 11 was one of the aircraft that hit the World Trade Centre. My situation on Friday morning, was a little different. Racing to make a flight to Norfolk Island to do a thing on Captain Bligh at the place where many of the descendants of his mutineers finished up, I found at the last minute that my Qantas flight actually left from the international terminal, not domestic, and was boarding in 18 minutes! But here's the thing. With no airport traffic, and tumbleweeds in both terminals, I made Gate 55 international with four minutes to spare . . . only to get a notification that Norfolk Island had been issued a tsunami warning because of the earthquake north of New Zealand. But . . . false alarm. I think.
Joke of the Week
A tourist in Vienna is going through a graveyard and all of a sudden he hears some music. No one is around, so he starts searching for the source. He finally discovers that it is coming from a grave with a headstone that reads "Ludwig van Beethoven, 1770–1827". Then he realises that the music is the Ninth Symphony and it is being played backwards! Puzzled, he leaves the graveyard and persuades a friend to return with him.
By the time they arrive back at the grave, the music has changed. This time it is the Seventh Symphony, but like the previous piece it is being played backwards. Curious, the men agree to consult a music scholar.
When they return with the expert, the Fifth Symphony is playing, again backwards. The expert notices that the symphonies are being played in the reverse order in which they were composed, the Ninth, then the Seventh, then the Fifth.
By the next day, the word has spread and a throng has gathered around the grave. They are all listening to the Second Symphony being played backwards. Just then, the graveyard's caretaker ambles up to the group. Someone in the crowd asks him if he has an explanation for the music. "Don't you get it?" the caretaker says incredulously. "He's decomposing!"
Quotes of the Week
"I believe you, we believe you, your country believes you." – Scott Morrison to child sex abuse survivors in October 2018.
"The comments made by Minister Reynolds are incredibly hurtful. I appreciate that it has been a stressful time but that sort of behaviour and language is never excusable. It's just further evidence of the toxic workplace culture that exists behind closed doors in Parliament House." – Brittany Higgins responds.
"I had a discussion with the individual, who absolutely rejects the allegations." – Scott Morrison about allegations of rape against one of his cabinet ministers, who turned out to be Attorney-General Christian Porter.
"It did not happen." – Christian Porter about the alleged rape.
"There were a lot of broken people. Young women were broken by their behaviour." – An unnamed source, alleging Meghan, the Duchess of Sussex, bullied her staff in London. It has been leaked, just as her interview with Oprah Winfrey is about to go to air.
"If the vaccines begin to impact not only on death and not only on hospitalisation, but have a significant impact on transmission dynamics and transmission risk, then I believe we will accelerate towards controlling this pandemic. [But] right now the virus is very much in control." – Dr Michael Ryan, director of WHO's emergencies program, warning people not to relax just because the COVID-19 vaccines are working well so far.
"[Award shows are] a scam invented by big red carpet, to sell more carpet." – Comedian Tina Fay, co-host, with Amy Poehler, of the Golden Globe awards, opening the show.
"This is the most ridiculous arrest in the history of Hong Kong, but I have confidence in our judicial system to restore justice. It's the last line of defence." – Herbert Chow, one of about 1000 people outside a Hong Kong court ahead of the hearing for 47 democracy activists charged with conspiracy to commit subversion.
"I would think possibly it might be quite alarming to suddenly see it out of the window. You'd think, 'gracious, has she arrived here unexpectedly!'" – Queen Elizabeth II, joking via Zoom, about a new life-sized bronze statue of herself installed in the grounds of Adelaide's Government House late last year.
"Sydney is a global city – we shouldn't be plagued by rubbish in our sky." – City of Sydney councillor Linda Scott saying that it is time for the remaining monorail stations to be removed. The monorail was closed in 2013.
"Hard to believe that a bloke who can't face reality nor accept responsibility, whose sole focus is on winning an early election, could realistically commit to and deliver the scale of reform required in aged care over the next five years – expect spin hubris and more neglect." – Former Liberal leader John Hewson tweeting on the Prime Minister.
Peter FitzSimons is a journalist and columnist with The Sydney Morning Herald.