American anti-doping boss Travis Tygart, who helped orchestrate the downfall of Lance Armstrong, has spoken of the 'injustice' in the current system as the focus moves back to banned swimmer Shayna Jack.
Jack will be the subject of Monday night's Australian Story on ABC, which will go behind the scenes in her fight to save her swimming career in the face of a positive drug test for ligandrol midway through 2019.
The freestyler sprinter was banned for four years by Sport Integrity Australia (SIA), then had her sanction reduced by two years by the Court of Arbitration for Sport (CAS), who described her as a compelling witness and believed her account of accidental ingestion of a minuscule amount of the SARM (selective androgen receptor modulator).
But that ruling was quickly appealed by SIA and the World Anti-Doping Authority (WADA), with Jack now facing a fresh CAS hearing and the prospect of her ban reverting back to its original four-year state, which would in effect end the career of the 22-year-old from Brisbane.
Tygart is the chief executive of USADA and has long been agitating for more flexibility in the strict WADA code. He told the Sydney Morning Herald soon after Jack's test came to light that the substance was being found in so many supplements that his body was no longer slamming athletes with blanket four-year bans.
"Even those that make really good choices – sometimes on the advice of their doctor or nutritionist or even their national Olympic committee or federations – to treat them the same under the rules as an intentional doper, whether it's Lance Armstrong or someone in the Russian state doping system [is not fair]," Tygart said at the time.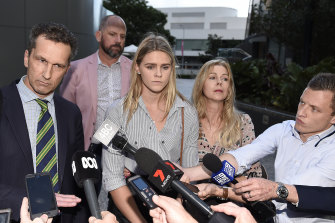 "That's not a fair system. We pursue exonerating the innocent as hard as we're going to pursue convicting the guilty. Because we are doing all of that work, that's why we have been so outspoken that we have to be sensible and fair and treating intentional dopers not the same as otherwise clean athletes who aren't intentionally doping."
He's doubled down as he's followed the Jack case, which has garnered attention from anti-doping bodies and sports law experts around the world as it makes its way through the system. He told ABC that athletes ran the risk of being 'railroaded' by a system that can now detect such insignificant amounts of substances that have been shown to have no impact on performance.