A surge in big technology stocks was pulling the stockmarket sharply higher on Tuesday (US time), as a fall in bond yields was helping beaten-down technology companies recover.
The surge comes a day after the Nasdaq closed 10 per cent below its February peak, what is known as a "correction" on Wall Street.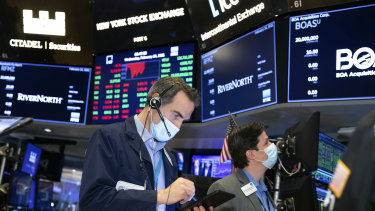 In early afternoon trade, the S&P 500 has jumped by 2.1 per cent, while the technology-heavy Nasdaq was up 4 per cent, led by gains in Apple, Amazon, Facebook and Cisco. The Dow Jones Industrial Average, which is weighted less toward tech than the other two indexes, gained 1 per cent. The Russell 2000 index of small company stocks was up 2.3 per cent.
It sets up the Australian sharemarket for a positive open, with futures at 5.02am AEDT, pointing to a jump of 32 points, or 0.5 per cent, at the open.
Investors were relieved to see that long-term interest rates were falling in the bond market. The yield on the 10-year Treasury note dropped to 1.55 per cent after trading above 1.60 per cent a day earlier. Higher bond yields tend to pull money away from high-priced stocks like technology companies, which have been soaring through the pandemic.
Bank stocks, which had benefited from the rise in bond yields, were moving in the opposite direction as the rest of the market. Bank of America fell 1 per cent while Citigroup slipped 0.6 per cent.
Yields have been climbing with rising expectations for growth and the inflation that could follow. Higher yields put downward pressure on stocks generally, in part because they can steer away dollars that might have gone into the stock market into bonds instead. That makes investors less willing to pay such high prices for stocks, especially those that look the most expensive, such as technology stocks.
"We're going through a regime change and it's not dissimilar to what we saw last year," said Kristina Hooper, chief global market strategist at Invesco. "Now we're seeing the reverse of that and an abrupt move like that creates an environment in which investors start to worry about valuations."