"There's a lot that you could say about Cameron, but the fact is we've been playing rugby league in Australia for 113 years and he's shown an ability to adapt to the evolution of the game," Abdo said.
"What is even more impressive is the success he's had as a leader in a team sport. In a competition as competitive as ours, to have a win rate over 70 per cent is phenomenal. His record speaks for itself and his feats will forever be part of our history."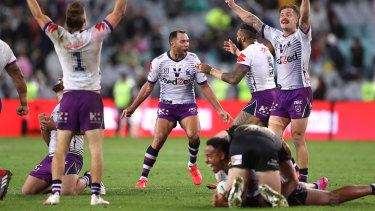 Melbourne have made no secret of their desire to ensure Smith stays at the club in an off-field role. The champion hooker is expected to take some time away in coming weeks before deciding what his next opportunity will be, which will no doubt be closely monitored by the Titans and Broncos.
Tripp will consider a number of possible roles for Smith, ranging from inside the football department to executive and board involvement, while also trying to coax Craig Bellamy to coach one more year.
"My job now is to make sure [Smith] is part of the club long term, and ideally that's what we're going to work towards," he said.
"I'm going to work really hard to structure a role that will see the great association we've had with him continue for many years to come. He's quite creative when he puts his mind to things. The sky is the limit.
Loading
"There are so many things we could do which would see him add great value to the club. He might turn around and not want to do that, but we'll keep talking and try to get to a position where we're all happy.
"It's hard to put into words how grateful we are for what he's done for the game of rugby league in Melbourne and in Victoria – and for the Melbourne Storm. We wouldn't be nowhere near the club we are without him and without what he's done for the club. It's not just Cameron, it's Barb and the kids. We're just eternally grateful."