London: Prince William is yet to speak to Prince Harry after this week's bombshell interview with Oprah Winfrey, and has hit back at claims the monarchy harbours a racist.
The 38-year-old heir to the throne on Thursday became the first member of the royal family to directly respond to the damaging fallout from the two-hour tell-all by Harry and Meghan, the Duchess of Sussex.
The most damaging allegation from the interview was that a senior member of the royal family had expressed concern to Harry about how dark his baby son Archie's skin would be.
Asked whether there were concerns the child would be "too brown" and that would be a problem, Meghan told Winfrey: "If that is the assumption you are making, that is a pretty safe one."
The couple did not discuss the context the remark was aired in and refused to say who made it, but later said it was not the Queen or her 99-year-old husband Prince Philip.
Asked whether he had spoken to his brother since the interview went to air in the US on Sunday evening, William replied: "No. I haven't spoken to him yet, but I will do."
Then asked whether the royal family was racist, William shot back: "We are very much not a racist family."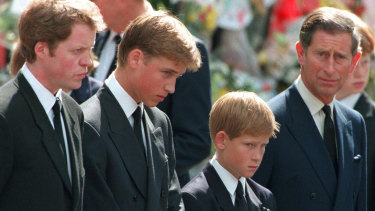 William and his wife Catherine, the Duchess of Cambridge were visiting the London suburb of Stratford to thank teachers for their work during the coronavirus pandemic.