Cricket Australia has dodged a major bullet with Channel Seven awarded only a fraction of the broadcast fee reduction it was seeking, but the network has warned it will continue to fight.
Faced with a potential financial disaster in the wake of the COVID-19 pandemic, CA has escaped with just a $5.3 million reduction from the $70 million the broadcaster was seeking to recoup from its annual $82 million cash-and-contra deal for the pandemic-affected season, according to a finding from an independent arbitrator announced to the ASX on Friday.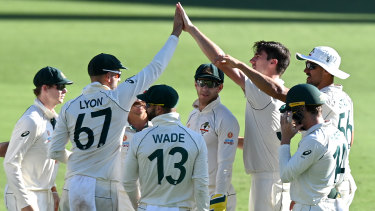 The sum will be deducted from the next scheduled rights fee payment on Monday.
Though there are provisions for Seven to recoup a further $3 million should next season's Test against Afghanistan not go ahead, but it is a positive development for the game in its ugly stoush with its free to air TV partner.
This had been the figure stated in the draft determination, first reported by the Herald and The Age last month.
Loading
The warring parties are due to head to the Federal Court on Monday as part of Seven's preliminary discovery action.
Against the odds, CA, which invested some $30 million in its biosecurity plan, honoured its pledge to stage a full international and Big Bash League season despite several outbreaks of COVID-19.
Seven, however, has indicated it may not accept the ruling from the Australian Centre for International Commercial Arbitration, having previously said the finding would be binding.