"I swear to God I didn't mean to hurt them and I wish they were alive," he told police.
"It was a big accident.
"They [the families] are probably waiting for them to come home. Imagine it was my kids or your kids. Oh God."
Singh, 48, had five hours' sleep in the three days before the crash and spent much of that time dealing drugs and using them with associates. Prosecutors say the combination of fatigue and his use of the drug ice impaired his ability to drive.
On Friday, Mr Morrissey said Singh accepted he chose to drive that day, but was prepared to give evidence against Mr Tuteru, who police allege knew the truck driver shouldn't have been working.
Mr Tuteru is charged with four counts of manslaughter and is due to face court in May. His lawyer has said he would fight the charges.
In a text message exchange on the morning of April 22, Singh raised concerns he was not fit to drive with Mr Tuteru, and the two men spoke at the Lyndhurst depot that afternoon. Other staff at Connect Logistics had previously raised concerns over Singh's fitness to drive.
Mr Morrissey said the truck driver faced "sustained pressure" to drive from Mr Tuteru, was "vulnerable to influence" given his mental state and personality type and was concerned at being sacked as he was on a six-month probation with the company.
"The boss leaned on him to drive but true it is, he [Singh] didn't disclose he was on drugs," Mr Morrissey said.
Justice Paul Coghlan questioned whether Mr Tuteru knew of Singh's drug use, and said although he understood there was pressure applied, the crash happened at the start of Singh's shift.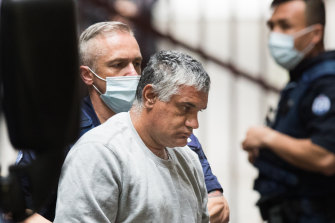 "The boss who encouraged him to drive did so with one hand tied behind his back," Justice Coghlan said.
The judge asked if Singh was "blaming someone else" for his crimes. Mr Morrissey said he didn't want to direct guilt towards Mr Tuteru.
Mr Morrissey said his client – who has pleaded guilty to four counts of culpable driving causing death, three of drug trafficking and other charges – was ultimately the one responsible for the officers' deaths.
"He chose to drive," he said of Singh.
Singh used ice for five years, the court heard, and was also a believer in the supernatural who thought he was cursed by a witch named Glenys who wouldn't get out of his passenger seat.
Forensic psychiatrist Andrew Carroll said Singh feared he was more vulnerable to the witch if he slept.
"He was intensely preoccupied that day with witches, curses, stick figures and the like," Dr Carroll said.
Loading
But he said Singh's decision to drive "was not directly driven by a delusion or a hallucination" and although he was in a psychotic state, it was separate to an intoxication from ice.
Dr Carroll found Singh was impulsive in decision-making, lacked insight into his drug use, tended to adopt supernatural reasoning over rational explanations and had low confidence, which meant he didn't assert himself with his boss like others would.
The psychiatrist said the truck driver knew he shouldn't drive if drug affected.
Mr Morrissey conceded Singh's drug use, lack of sleep, his knowledge he shouldn't have driven but did for a long distance – Kew is 50 kilometres from Lyndhurst – aggravated his crimes.
Chief crown prosecutor Brendan Kissane, QC, accepted Singh faced pressure from work to drive, but said it was his decision and the gravity of the crimes was high.
Mr Morrissey asked Justice Coghlan to consider Singh's early guilty plea, remorse and his "hopeful" rehabilitative prospects.
The father of two remains in custody and will be sentenced on April 14.
Pusey has pleaded guilty to outraging public decency and other charges for filming Leading Senior Constable Taylor while she was critically injured. He is in custody awaiting a plea hearing on March 31.
Start your day informed
Our Morning Edition newsletter is a curated guide to the most important and interesting stories, analysis and insights. Sign up here.
Adam Cooper joined The Age in 2011 after a decade with AAP. Email or tweet Adam with your news tips.