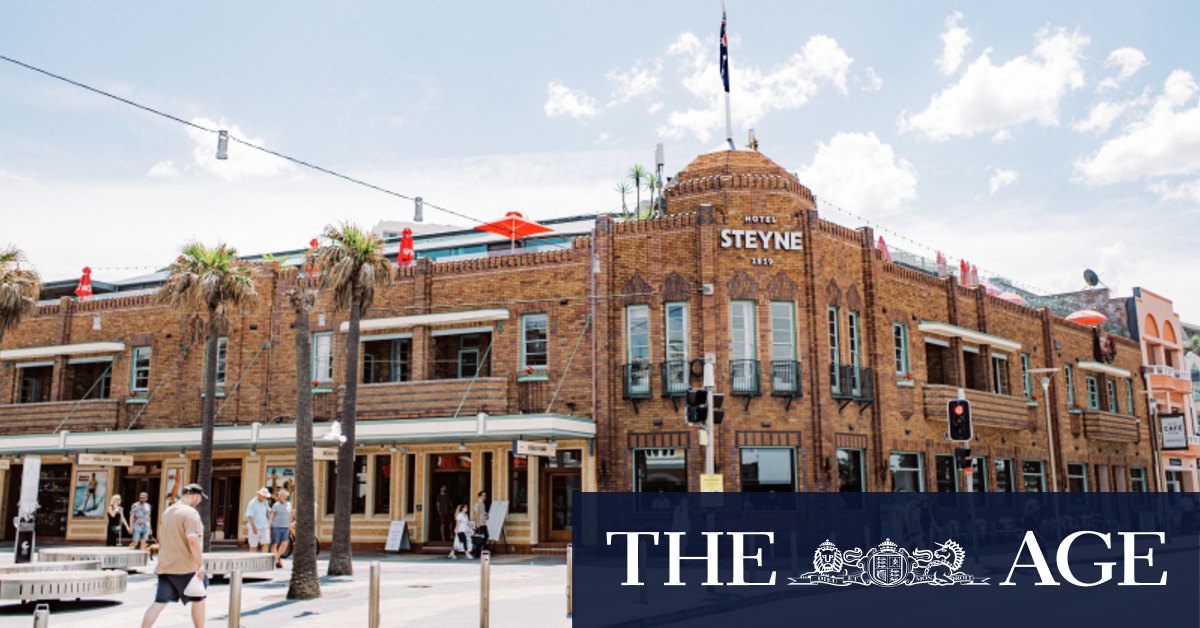 A new canopy fronting the main pedestrian walkway was reinstated after the architects viewed original photographs from the 1930s.
A number of Band-Aid solutions had been added over the decades.
There was also the problem of circulation, with patrons having to walk through the cafe next door (also built in the 1930s and purchased by the former owners) to gain access to the hotel," said Ms Luchetti.
Rather than try and combine the two, Luchetti Krelle has allowed both buildings to be clearly read.
The adjoining building is now painted in a pale pink, with a Miami-style '30's-inspired courtyard, decked out in pastel tones and dotted with black and white striped umbrellas, bridging the two.
One of the most significant changes made to the floor plan was the insertion of a new reception area.
Loading
And instead of it appearing as a separate entity, as with most hotels, here the reception was conceived to form part of the hotel's cafe.
Chequerboard tiles appear on the floor and pressed tin tiles on the ceiling complement the art deco-style wallpaper and walnut panelling.
"This arrangement is more aligned to the hotel's demographic, as a four-star hip hotel," said Ms Luchetti.
When it came to decking out the bar, cafe and lounge areas, there's also cool vibe with deep leather lounges, banquette-style seating and the use of subtle 1930s paint colours, such as petrol for the walls framing the main staircase.
Loading
A newly painted wall mural depicting a 1930s beach scene, complete with seagulls, adds to the ambience.
When it came to designing the guest suites, Luchetti Krelle went for a contemporary take on the classic 1930s interior.
Sand and sky hues, separated by a datum line on walls, create a nod to this period, while curved bedheads and side tables capture the curvaceous lines that are also classic art deco.
Mindful of the need for light, as much as acoustic control, some of the guest suites facing the courtyard feature glass brick walls (popular in the 1930s and experiencing a revival today).
The ensuites to rooms also play on the art deco style, with glass brick walls and curved vanities.
While the client didn't know what to expect with the makeover, he was delighted to see the Steyne's heritage preserved.
"When you start researching projects such as this one, you make discoveries that take you in a certain direction," said Ms Luchetti.
"He owns a number of hotels across Sydney, but he sees the Steyne as the jewel in the crown."
For locals, as well as those travelling from further afield, it's a jewel that has been polished for just the right effect.
Start your day informed
Our Morning Edition newsletter is a curated guide to the most important and interesting stories, analysis and insights. Sign up here.