More than a thousand disposable face masks have washed up on remote Lord Howe Island since the start of the COVID-19 pandemic, sparking fears for marine life and sea birds.
Early reports from Clean Up Australia Day a week ago also suggest face masks and other pandemic-related litter have emerged as a big problem on the mainland.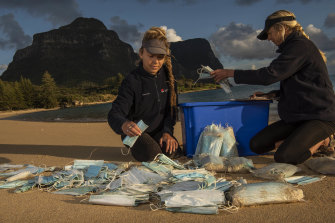 Lord Howe Island Marine Park manager Justin Gilligan said a community-wide effort had recovered 1112 face masks from the island's beaches and rocky headlands in the second half of last year.
"The material would wash in depending on the prevailing wind and swell," Mr Gilligan said. "We had a bit of wild weather during the La Nina winter, with lots of onshore winds and swirl from different sides of the island so the masks and debris would wash up both the lagoon side and ocean side."
They also found 142 plastic takeaway containers, 130 fragments of those containers, and 139 pieces of container foam ranging in size from 10 centimetres to 1.5 metres.
The debris is believed to be from shipping containers that fell off the APL England in high seas 73 kilometres off the coast of Sydney in May 2020. The masks were all of the same design and some were still in plastic packages of 50.
A Transport for NSW spokesperson said debris started washing ashore two days after the accident and had been retrieved from the Royal National Park, Boat Harbour, Port Kembla, Forresters Beach, Maroubra, Maitland Bay and the Central Coast as well as Lord Howe Island.
Debris recovered from the mainland also included air conditioning ducting, whole and pieces of refrigerated containers, foam, packets of Panko breadcrumbs, rope, compressor pump and refrigeration components.