"Melbourne Victory Football Club does not condone or tolerate racism in any form. This club has been built on embracing diversity and sees football as a platform to unite fans no matter what background," it said in a statement.
"To see that Kusini Yengi has been subjected to racist online comments overnight is incredibly disappointing and the club has been working with Adelaide United and the relevant authorities to investigate this matter further."
Yengi was jeered by Victory supporters during his goal celebration, his teammates also jumping the barrier to congratulate him. There is no suggestion he was racially abused by the crowd.
Victory, once a powerhouse of the A-League, are on the bottom of the ladder and enduring a dreadful season but the club has so far backed coach Grant Brebner.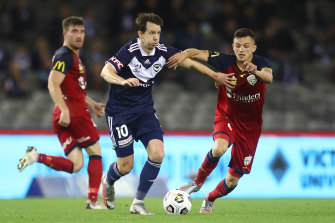 Adelaide and Victory are fierce rivals, their match-up called the A-League's "original rivalry". The Reds suffered their greatest ever humiliation in the 2007 grand final, when Archie Thompson scored five goals and Victory beat a 10-man Adelaide 6-0.
Adelaide boss Carl Veart said he would "have a word" with his young striker about his celebration.
"He just reminded them that this is a big game for us and especially for our supporters and to make sure that we matched their effort and fight – and I think our boys did that tonight," he said.
Victory's defeat came seven days after a 6-0 humiliation by Melbourne City.
Victory were simply not good enough, physical enough, sharp enough, quick enough, tactically adept or committed enough to trouble a team as good as the Reds for 90 minutes.
Brebner expressed his anger after the game. "I sat here last week, humiliated. Tonight I sit here really, really angry at the way we gifted goals to the opposition tonight because we had some good players performance-wise tonight," he said.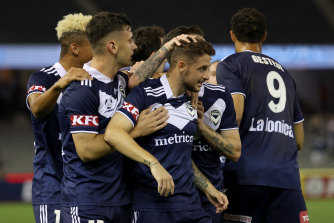 "I've come in here and I've always protected and stood by – but when you defend like that, we're in trouble."
Adelaide's goals, he said, were "down to individual mistakes and poor decisions, not intensity because we had the numbers back in the box".
Michael Lynch is The Age's chief soccer reporter and also reports on motor sport and horseracing