Dustin Martin will one day be ranked among the top 10 Australian rules footballers to have played the game, ex-Brisbane Lions champion Jonathan Brown says.
"Martin will, I think, clearly go down as [one of] the top 10 greatest players in the history of our game, absolutely," Brown, a Fox Footy commentator and one of the AFL's greatest key forwards, told The Age.
Brown said Martin was up in the company of Leigh Matthews, his former coach who won eight best and fairests at Hawthorn, four flags and booted 915 goals as a small forward/rover.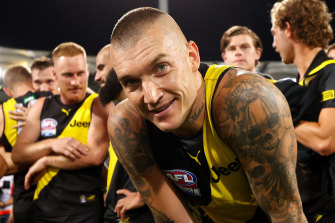 Brown said Martin's presence gave Richmond confidence. "When you've got 150 years' history of the game and you've got a bloke who delivers on the big stage time and time again, that gives you some confidence," he said.
Asked if the Tigers would have won any of their three flags from 2017 without Martin, Brown said: "They might have. They certainly wouldn't have won last year without him."
As Richmond seeks to emulate the 2001-2003 Brisbane team by winning a third consecutive flag this season (and four premierships in five seasons), Brown said that hunger would not be an issue, based on his experiences with that Lions team.
"When you taste success, it's amazing. People talk about hangovers – I reckon it's the opposite. When you've tasted success, you know how good it is, you want to experience it more. That's what we felt [at Brisbane] … and I think that's how Richmond feels," Brown said.
"Richmond will know that they're on the cusp of history."
Brown nominated Port Adelaide as the side best-placed to challenge Richmond for the premiership.