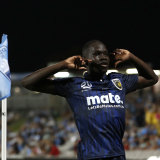 One of the names that is not no longer on the off-contract list is that of Central Coast Mariners' in-form striker, Alou Kuol. In a major coup for the Gosford club, the 19-year-old Kuol rejected offers from a host of rival clubs and opted to remain with the club that gave him his professional debut, agreeing to a contract extension that ensures he will remain on the Central Coast next season. Kuol has been one of the stars of the Mariners suprise form, netting six times in 12 appearances this season.
Adelaide United (10)
Domenic Costanzo, Yaya Dukuly, Jordan Elsey, Joe Gauci, Tomi Juric, Nathan Konstandopoulos, Javi Lopez, Michael Marrone, Dakota Ochsenham, Noah Smith.
Brisbane Roar (15)
Rahmat Akbari, Tom Aldred, Joshua Brindell-South, Jordan Courtney-Perkins, Jesse Daley, Riku Danzaki, Macklin Freke, Macaulay Gillesphey, Jai Ingham, Danny Kim, Masato Kudo, Scott McDonald, Jay O'Shea, Izaack Powell, Dylan Wenzel-Halls.
Central Coast Mariners (15)
Mark Birighitti, Daniel Bouman, Jaden Casella, Jack Clisby, Danny De Silva, Daniel Hall, Matthew Hatch, Stefan Jankovic, Michal Janota, Stefan Nigro, Adam Pearce, Kye Rowles, Matthew Simon, Ruon Tongyik, Marco Urena.
Macarthur FC (16)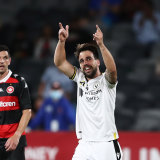 Benat Etxebarria, Ivan Franjic, Antony Golec, Charles M'Mombwa, Antonis Martis, Jake McGing, James Meredith, Yianni Nicolaou, Milislav Popovic, Loic Puyo, Liam Rose, Michael Ruhs, Walter Scott, Nick Suman, Markel Susaeta, Aleks Susnjar.
Melbourne City (11)
Florin Berenguer, Raphael Borges Rodrigues, Stefan Colakovski, Taras Gomulka, Curtis Good, Scott Jamieson, Craig Noone, Bernardo Oliveira, Adrian Luna, Kerrin Stokes, Naoki Tsubaki.
Melbourne Victory (15)
Aaron Anderson, Nick Ansell, Jake Brimmer, Jacob Butterfield, Max Crocombe, Ben Folami, Rudy Gestede, Elvis Kamsoba, Birkan Kirdar, Robbie Kruse, Brandon Lauton, So Nishikawa, Storm Roux, Dylan Ryan, Adama Traore.
Newcastle Jets (10)
Ali Abbas, Jack Armson, Nigel Boogard, Jack Duncan, Lachlan Jakcson, Johnny Koutroumbis, Roy O'Donovan, Kosta Petratos, Jack Simmons, Nikolai Topor-Stanley.
Perth Glory (20)
Carlo Armiento, Jonathan Aspropotamitis, Bryce Bafford, Luke Bodnar, Diego Castro, Giordano Colli, Cameron Cook, Nick D'Agostino, Declan Hughes, Chris Ikonomidis, Dane Ingham, Andy Keogh, Neil Kilkenny, Trent Ostler, Liam Reddy, Daniel Stynes, Nick Sullivan, Mason Tatafu, Tando Velaphi, Brandon Wilson.
Sydney FC (13)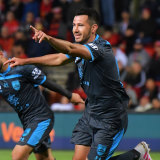 Alex Baumjohann, Trent Buhagiar, Anthony Caceres, Bobo, Patrick Flottmann, Tom Heward-Belle, Ryan McGowan, Paulo Retre, Jordi Swibel, Callum Talbot, Ben Warland, Alex Wilkinson, Chris Zuvela.
Wellington Phoenix (14)
Ulises Davila, Luke DeVere, Cameron Devlin, Louis Fenton, Tomer Hemed, Josh Laws, Clayton Lewis, Stefan Marinovic, James McGarry, Liam McGing, Mirza Muratovic, Matthew Ridenton, Oliver Sail, Ben Waine.
Western Sydney Wanderers (13)
Phillip Cancar, Jarrod Carluccio, Simon Cox, Daniel Giorgevski, Ziggy Gordon, Kosta Grozos, Bruce Kamau, Alessandro Lopane, Nicolai Muller, Jordan O'Doherty, Tate Russell, Daniel Wilmering, Kwame Yeboah.
Western United (16)
Besart Berisha, Max Burgess, Aaron Calver, Andrew Durante, Luke Duzel, Brendan Hamill, Filip Kurto, Steven Lustica, Nicolas Milanovic, Connor Pain, Sebastian Pasquali, Dylan Pierias, Josh Risdon, Jerry Skotadis, Tomislav Uskok, Ivan Vujica.
Dominic Bossi is a football reporter with The Sydney Morning Herald.