No one is talking about an early election now. A little over a month ago a large chunk of the political and media class confidently predicted Scott Morrison would bank the bounce in his personal approval ratings by scampering to the polls sometime after August. Labor was so convinced that an imminent, crushing, defeat loomed some in its ranks were cooking up a leadership coup.
Then, as ever, predictions were scuppered by events. Now heading to the polls early looks like madness for the Coalition though, it must be noted, the Prime Minister always maintained his intention was to face an election next year.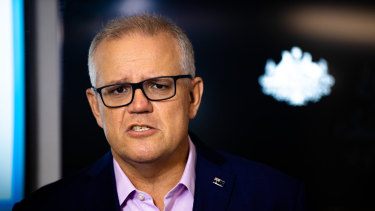 The Morrison government's travails began when former Liberal staffer Brittany Higgins alleged she had been raped by a senior colleague in the office of then defence industry minister Linda Reynolds in 2019. Things got profoundly worse when the Attorney-General, Christian Porter, was felled by a 33-year-old rape allegation levelled by a woman who took her own life last year.
In the fallout the two most senior Western Australian cabinet ministers retired hurt and the hard truth of politics is that both look mortally wounded.
Then more bad news for Scott Morrison rode out of the west in the shape of a state election. Landslide is too tame a word for what unfolded on Saturday night; this was an extinction-level event for the state Liberals. Each number that rolled in was more astonishing than the last, as Premier Mark McGowan was crowned leader of a one-party state. Labor won 44 seats in the 59-seat lower house on primary votes alone. It will get to at least 51 and win a majority in the upper house. When the dust settles the best the Liberal Party can hope for is three.
McGowan has captured all of the political centre ground and his victory speech showed he intends to settle in for a long reign. He made a point of thanking those who voted Labor for the first time in their lives. He promised to govern for all, reminded his own not to give in to hubris and that being in the "mainstream" was crucial for success.
As one federal Liberal noted, once lifelong conservatives vote Labor the first time, doing it again is easier. If the state results were repeated at a federal poll, six of the 11 Liberal seats would fall. That probably won't happen but it's wise to remember Morrison's parliamentary majority stands at a single seat.
On Friday, one Liberal seat will fall without a vote being cast, as the Australian Electoral Commission redraws the west's federal map. The boundary changes will also recast the contest there the next time we go to the polls.