Desperate for advice, Hadassin called the Australian Consulate-General in Hong Kong.
"The consulate's response shamed me as an Aussie," she said. "I was told they cannot help, as they cannot interfere in the rules and regulations of Hong Kong, but to send an email so they can track the case."
The Department of Foreign Affairs said it was providing consular assistance to a number of Australians in Hong Kong who have contacted the consulate, having either tested positive or who have been quarantined.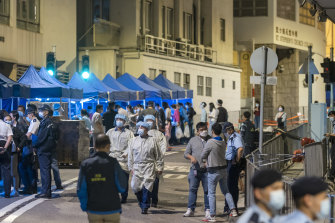 "The Consulate-General is in regular close contact with Hong Kong government health officials on this matter," a spokesperson said. "Due to privacy considerations, we are unable to provide any information on individual circumstances."
Hadassin was permitted to accompany her son into the 18-square metre unit, but dozens of children have been separated from their families after their parents tested positive for COVID-19. Australian government sources have not identified any Australian children who have been separated.
Chief Executive Carrie Lam on Tuesday defended the measures, stating that public health concerns had to be respected. "[We have] no policy to deliberately separate children from their parents."
"Where the close contacts are young children of the parents, we will exceptionally allow the admission of the children into hospital as well, where there will be appropriate arrangements," she said.
Hadassin said it was left up to parents and the school to argue their case against the forced quarantine in a government facility. The children were exposed for ten minutes to the teacher, who was behind plexiglass, and they were all wearing masks – well below the close contact exposure time of 20 minutes mandated under Hong Kong's Centre for Health Protection guidelines.
After a tense 24 hours of lobbying, Hadassin was told Hong Kong authorities had suddenly reversed their decision, allowing the class to undergo mandatory testing but not quarantine.
But another class of 35 nine-year-olds from the international Harbour School were not spared and had to be quarantined. A separate group of eight babies and parents who attended a playgroup were also sent into isolation.
The Asian financial centre is home to one of the biggest groups of foreigners in the region.
Tara Joseph, the head of the American Chamber of Commerce, said the international business community was grateful that the Hong Kong government had largely contained COVID-19 to 11,000 cases.
But she said the "sudden and mandatory quarantining of entire school classes, including toddler groups, really has alarmed many people".
"We don't want to be a whinging expat community," she said in a phone interview. "But whether it's Hong Kong children or expat children. It worries us greatly."
"Let's face it, we've gone through violent protests, the National Security Law, now changes in local politics, all under COVID.
"It's been a particularly challenging time for Hong Kong and most of us want to stay here and do business but the lack of communication is a major hurdle".
A snap survey of AmCham members in Hong Kong released on Wednesday found almost 60 per cent were worried about entire school classes being sent into quarantine, 53 per cent believed it to be unjustified and 54 per cent said it would weigh on their decision about staying in Hong Kong.
What in the World
Eryk Bagshaw is the North Asia correspondent for The Sydney Morning Herald and The Age. Due to travel restrictions, he is currently based in Canberra.