A giant tunnel boring machine that will dig about 16 metres every day to create the Snowy 2.0 project will be named in honour of Lady Eileen Hudson, the wife of the iconic scheme's inaugural commissioner.
Snowy Hydro Ltd will on Friday commission the first of three boring machines, which will excavate the 2.6km main access tunnel for the project and provide access to the underground power station.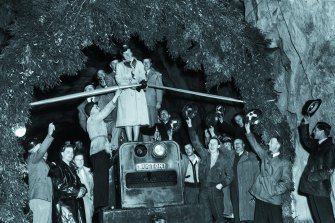 It marks a ramping up of construction during the past year, with a current workforce of 1000 people and an expected 4000 direct jobs over the life of the project, which will significantly expand pumped-hydro electricity generation from the iconic Snowy Mountains Scheme.
Lady Hudson, was a tireless ambassador for the Snowy Scheme while her husband Sir William was responsible for coordinating the construction of the biggest civil engineering project ever undertaken in Australia.
The pair are the grandparents of federal Energy and Emissions Reduction Minister Angus Taylor. The decision to name the machine was made by the Snowy Hydro board.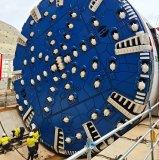 The massive project involves linking two existing dams, Tantangara and Talbingo, through 27km of tunnels and building a new underground power station.
Water will be pumped to the upper dam when there is surplus renewable energy production and the demand for energy is low, and then released back to the lower dam to generate energy when electricity demand is high.
When completed, Snowy 2.0 will increase the Snowy Hydro Scheme's capacity by 2000 megawatts and provide 350,000 megawatt hours of large-scale storage, enough to power the equivalent of 500,000 homes for over a week during peak demand.