"Does the average Victorian appreciate that there were a number of brutal massacres in our history here? Do they understand the role of all forms of violence against Aboriginal people including sexual violence perpetrated against them systemically?" she asked.
The average Melburnian had a "really limited" understanding of Indigenous people because such people lived mostly in regional centres such as Shepparton and Mildura, Ms Williams said.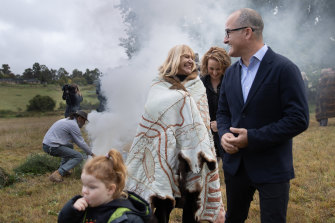 "If we can build a better community understanding of these issues and of the truth [through the commission], then hopefully we can also build a greater … embracing of the need for us to do things differently."
Yoo-rrook is the word for "truth" in the Wemba Wemba language.
The 38-year-old minister said the commission would, for the first time, tell a holistic story going to the core of Indigenous disadvantage, with the aim of "transform[ing] the lives and livelihoods of Indigenous people in Victoria."
More than 13 years after then prime minister Kevin Rudd's apology to the stolen generations, most national targets for Indigenous advancement – including in the areas of child mortality, school attendance, employment and life expectancy – are not being met. Indigenous people are still dying in custody at a high rate and three deaths were recorded in NSW and Victoria this month.
After public hearings and the testimonies of witnesses, five commissioners picked by the Indigenous community will recommend legislative changes. The commission will also aim to foster agreement between First Australians and the government on what issues will form part of a treaty.
Hearings are expected to start in July, with an interim report to be handed down in the middle of next year and the hearings to conclude in 2024.
A significant proportion of the discussion about the commission has centred on its examination of past atrocities in Victoria, but Ms Williams emphasised the inquiry would focus heavily on the details of present-day disadvantage and recommending tangible changes.
"This is not a symbolic exercise," she said.
When Ms Williams became minister in charge of Indigenous affairs, she was confronted with a treaty negotiation that had the potential to be bogged down in squabbling between government and First Australians over what the agreement could encompass. "Where would you start?" she asked.
Yoo-rrook Justice Commission
Royal commission powers to produce documents and compel witnesses to public hearings.
Two workstreams to examine past and current discrimination toward Indigenous people.
"Broad" terms of reference empowering five commissioners to establish "an official record of the impact of colonisation on First Peoples in Victoria using First Peoples' stories".
Hearings expected to start in July, with an interim report to be handed down in the middle of next year and final recommendations in 2024.
Designed to foster a shared agreement between First Australians and government on how best to pursue a treaty.
The Black Lives Matter movement prompted a global conversation about race relations, particularly those in the US, in the middle of last year. But Ms Williams was conscious that Australia had its own unaddressed wounds and harnessed the momentum the movement created to push for the commission in collaboration with the First People's Assembly – the group formed to drive the treaty negotiation.
A former lawyer who learnt about truth-telling commissions in her university studies, she believed a commission was the best way to develop a shared set of priorities for a treaty. It will be modelled on the panel set up by Nelson Mandela in post-apartheid South Africa as well as those that have been held in New Zealand and Canada.
Loading
Ms Williams said the government would establish financial compensation for Indigenous people if the final report of the commission recommended this action.
The Andrews government made its first foray into reparations last year when Ms Williams' predecessor, Gavin Jennings, announced $10 million would be spent on compensating members of the stolen generations.
Unlike other government inquiries, the government will not pick the five commissioners in charge. Prospective commissioners – most of whom will be Indigenous – will issue a public statement detailing their suitability. First Nations people will then offer feedback, which can be responded to by the applicant. An independent panel will then make recommendations to the Premier.
Start your day informed
Our Morning Edition newsletter is a curated guide to the most important and interesting stories, analysis and insights. Sign up here.
Paul is a Victorian political reporter for The Age.