So that's it from a big Friday night doubleheader in round two, which went from the Central Coast to the Gold Coast and ended with the NRL's money man David Fifita destroying his old club.
The night started with another young tyro, Bradman Best, stepping up to haul the Knights to a late 20-16 win over the Warriors before Fifita scored twice in the Titans' 28-16 victory over Kevin Walters' winless Brisbane.
Thanks for joining the coverage and I'm off to stretch those tight hamstrings and have a quick nightcap.
We'll do it all again next week. Good night.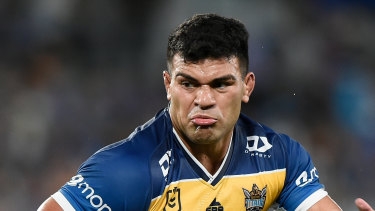 If people still needed convincing about the power base shifting in Queensland, then they don't anymore.
That match was settled in the space of six first-half minutes when the Titans scored three tries, including one for David Fifita before he added a second after the break.
"He showed he's worth the money they paid for him," Fifita's old Brisbane teammate Tevita Pangai jnr tells Nine. "It's about competing for the whole 80 minutes. If we keep competing the results will come."
Fifita is relatively reserved in his interview with Andrew Johns, but you can tell he's a relieved man after the build-up. That's gone a little way to paying his massive salary this year.
"To bounce back against our biggest rivals … it's a good feeling to get the win," he says.
That's all she wrote and a comfortable win for the Gold Coast Titans, their first of the season.
David Fifita – who else? – bags a double in his first game against his old club to inspire a 28-16 win over wooden spooners Brisbane, which are still yet to win in two matches under new coach Kevin Walters.
It promises to be a long, long year for Brisbane based on this evidence.
Justin Holbrook won't exactly be happy with the last 20 minutes from his side and they've surrendered a very late try to the Broncos and Tevita Pangai jnr, who just runs hard from a penalty tap 10 metres out and wrestles his way over the line. Tired stuff there from the Titans. Coach won't be smiling about that.
Gold Coast lead 28-16 with only two minutes left and David Fifita has passed his head injury assessment to return to the field for the final moments.
I don't know how the players are going to survive this tempo for 25 weeks plus finals. There have been some seriously gassed players in the opening week-and-a-half, and tonight looks no exception.
One man who is not gassed is big Tino. He collars Jamayne Isaako in the in goal for another dropout before Ash Taylor forces a turnover with a crunching hit on Brodie Croft a couple of sets later. The man has been inspired in his 100th NRL match for the Gold Coast.
Now AJ Brimson is saving tries rather than scoring them, bringing down Jordan Riki after Brisbane's shining light makes a bust. Inside the last six minutes.
I'm not sure he's going to get that hat-trick now, and I'm not sure if he'll even be back at all.
David Fifita has left the ground to generous applause for a head injury assessment after coming awkwardly out of a tackle. He didn't look too bad, but no chances being taken with Fifita's health.
Not a bad night to make your mark at your new club. Mitch Rein back on the field.
I know I haven't mentioned him much tonight, but the Titans' other big recruit, Tino Fa'asuamaleaui has been stellar for Justin Holbrook's side. His signing could be just as significant as Fifita's by the end of the year.
It's little more than a consolation, but the Broncos have a bit of joy.
I'm not exactly sure about the decision, but AJ Brimson rakes at the ball in a tackle as Tesi Niu charges close to the line, allowing Xavier Coates to kick the ball through and then ground it. The Titans are claiming Niu knocked it on after Brimson's deliberate play at the ball, but the Bunker have overturned Matt Cecchin's on-field call of no try.
Jamayne Isaako's conversion wobbles over off an upright. Titans lead 28-10 with 19 minutes left.
This is a sight every Brisbane fan won't want to see again for a long time…
How much are they paying this bloke? $1 million a year? $1.2 million? It might be worth every penny.
David Fifita is toying with his old club at the moment, running onto a Jamal Fogarty ball and swatting away Anthony Milford and then wrestling past Jamayne Isaako. That's his second try of the night – and aren't the Gold Coast fans loving it.
Jamal Fogarty adds the extra and it's 28-4 to the Gold Coast with 14 minutes left.
Anyone betting on him not scoring a hat-trick by the end of the night?
There are a few signs of a pulse at the wooden spooners, David Mead putting on a big hit and forcing a turnover.
And just when they were about to launch an attack, Herbie Farnworth is stiff. Surely. Jamal Fogarty is holding onto his legs as he gets up to play it. Referee Matt Cecchin rules a knock-on. That's tough, very tough.