Also known as Landmark Tower, the 29-storey building was completed in 2006 under the controversial stewardship of City Pacific, a Queensland company that soon went bust.
Hong Kong-based Ovolo Group paid $65 million for the 149-unit hotel in 2014 amid plans to refurbish and reposition the property.
So while the hotel is fully leased to Oaks, a separately owned hotels group that pays $4.5 million a year in rent, there is a termination clause in the agreement.
Current interest is reportedly at around a 6 per cent yield, which puts a prospective price at the $75 million mark.
Colliers International agents Guy Wells, Gus Moor and Oliver Hay are marketing the property via expressions of interest closing in mid-April.
Mr Wells said there was interest from groups such as build-to-rent and student accommodation.
"Even though the students aren't here right now, those groups are still acquisitive," he said.
The hotel's units are configured as one and two-bedroom apartments that can be easily repurposed rather than as an ordinary hotel.
Moray foray
The Deague Group has leased the whole of level five at its new 101 Moray Street office building to global software group Xplor.
The 1649 sq m office will house 150 of Xplor's head office staff who are planning to move into the space in June.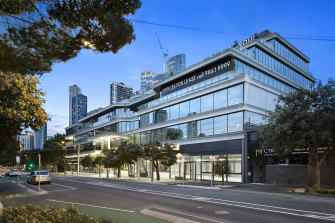 The seven-year lease was negotiated by CBRE agent Josh Jennings. Other new tenants include Adobe, which has taken 527 sq m and listed advertising company, Ooh! Media, which will be relocating from Fitzroy Street, St Kilda.
101 Moray was completed early this year and rents in the building are understood to be between $550 and $600 a sq m.
Xplor boss Mark Woodland said office space is critical even with flexible work arrangements in place.
"Almost every job will have some degree of flexibility built-in. However, there is still a need for a place that encourages people to interact with each other, helping to maintain the culture," Mr Woodland said.
Waygu farm
Professor Bob Officer is calling time on his post-academic farming career and selling up his Wangaratta-based Waygu cattle business and land.
Moyhu Wagyu, includes 1300 head of cattle – Wagyu and Wagyu Angus – on four farms across 847 hectares in the King Valley. It's expected to fetch more than $12 million.
The properties include several houses; the main homestead is a six-bedroom house designed by the late highly regarded architect Guildford Bell.
Professor Officer bought his first Moyhu district property as a hobby farm 25 years ago and slowly expanded his holdings in the area, moving into Wagyu production.
"I found that Wagyu beef was not a fad, rather a high value enterprise option that served increasing community demand for quality beef products that are both healthy and have a uniqueness of taste," he said.
While the professor's original degrees were in agricultural science, he gravitated towards finance and business and was involved in restructuring the Australian taxation system. He is an emeritus professor at the University of Melbourne.
Elders Real Estate Wangaratta's selling agent Michael Everard is handling the sale.
Bourke buy
A big chunk of level 10 at 488 Bourke Street has sold off-market for $2.85 million just five days after it was inspected by potential buyers.
A law firm is understood to have snapped up the vacant 353 sq m office at a price of $8074 a sq m.
It was marketed by Colliers International agents George Davies, Anthony Kirwan and Chris Ling who declined to comment further on the deal.
Records show the four-suite office complex had been owned by a company associated with barrister's clerk John Dever since 2008.
Mr Dever runs the 160-year-old Dever's List of barristers with his sons Phillip and Michael Dever. The McPhee Mediation Centre, associated with Devers List, had been operating in the office.
Other strata offices coming up for sale include a corner of level 11 at 227 Collins street, which is expected to fetch more than $1.2 million and level 4 of 414 Lonsdale Street, which should sell for more than $1.3 million.
Summerhill
The last piece of the Summerhill development site in Reservoir is coming to market.
The 4434 sq m parcel of land is at the southern end of the plot next door to the revamped hotel and shopping centre at 800 Plenty Road.
CBRE agents Jimmy Tat, David Minty, Marcello Caspani-Muto and Nathan Mufale are handling expressions of interest that close in early May.
High on the hill, looking out to the east, the site has an existing permit for six levels of aged care and retirement across two buildings. It is zoned Commercial 1.
However, Mr Mufale said interest is also expected from mixed use, residential and build-to-rent developers. Offers north of $7 million are expected.
Meanwhile CBRE is holding its first boardroom auction next month with a portfolio of childcare and petrol station assets developed by Procon Developments on the block.
Nicole Lindsay is a property reporter at The Age.