Police will soon resume searching for a bodyboarder believed to be missing in waters at Coffs Harbour.
They were called to North Wall Beach around 2.45pm Saturday following reports from the shoreline of a male bodyboarder who failed to resurface. The man is believed to be aged in his 60s.
Officers conducted a search of the beach and water, with the assistance of a rescue helicopter and Surf Life Saving NSW but were unable to locate the man. The search was suspended overnight and is expected to resume at 9am Sunday.
Police are appealing for information from anyone who was in the area at the time.
Residents from four homes in Woollahra in Sydney's east were evacuated last night after a natural rock wall shifted due to the rain.
Police and emergency services were called by a resident who noticed the 40-metre natural rock cliff face had moved. As a precaution the residents of four homes on Wallaroy Crescent were evacuated until the area could be assessed by a structural engineer.
Occupants of three other houses were later allowed to return home safely, however structural engineers declared one property unsafe until the wall could be stabilised.
Earlier on Saturday afternoon police and emergency services rescued two bushwalkers who were returning from a camping trip while walking the Six-Foot Track at Katoomba in the Blue Mountains.
The pair ran into difficulties while crossing a fast flowing watercourse. Blue Mountains Police Rescue and NSW Ambulance SOT paramedics set up a roping system and placed the bush walkers in a harness to assist them to safety.
Major flooding is occurring along the Hawkesbury River at North Richmond where the river level has been rising on Sunday morning. Flooding is likely to be similar to February last year, when heavy falls saw the Windsor and Richmond bridges submerged for the first time in 28 years.
At North Richmond the Hawkesbury could reach 12 metres around midday Sunday with major flooding. Further rises are possible. At Windsor it's likely to reach around 10 metres by 8am, with moderate flooding. Further rises to the major flood level are possible.
Major flooding is also possible at Windsor, Sackville and Lower Portland from late Sunday.
Moderate flooding is possible along the Nepean River at Menangle, Wallacia and Penrith during Sunday.
Moderate flooding continues along the Colo River, with further rises to the major flood level possible. No river level observations are available for the Colo River at Putty Road.
The latest update from the Bureau of Meteorology suggests there is no letting up in this major weather event, with warnings in place for the next 12 to 18 hours.
The focus of heavy rain in the next 6-12 hours will be the Mid North Coast, Blue Mountains and surrounds including western Sydney, parts of the Northern Rivers and Illawarra districts.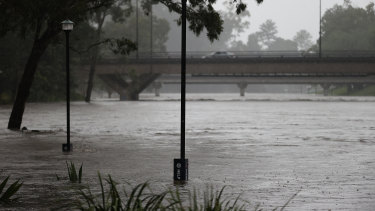 Roads are likely to be cut off by water, and there will be an increased risk of landslips during this period.
Flash flooding warnings are still in place in the Northern Rivers, Mid North Coast, Hunter, Sydney Metropolitan, Illawarra, and Central Tablelands districts. These conditions can be life-threatening, so please take care.
The rainfall is occurring due to a low pressure trough lying along the NSW coast, which is generating persistent rain in many eastern districts, plus windy conditions. This trough is also bringing windy weather to higher parts of the southern ranges.
The BOM will issue its next severe weather warning at 11:00 am.
The NSW SES has issued evacuation orders for two new locations this morning:
Residents within Northern end of low lying areas of Agnes Banks area: Evacuate by 12pm. People within Northern end of low lying areas of Agnes Banks should evacuate the high danger area using the Castlereagh Road Evacuation Route. The evacuation is for all properties within the area of the area on the Hawkesbury River that contains Yarramundi Lane, Crowleys Lane and Inalls Lane.
Residents within Freemans Reach area: Evacuate by 9am. People in low lying areas of Freemans Reach should evacuate using the Stannix Park Road Evacuation Route. The evacuation is for all properties within the area of Freemans Reach bounded by Putty Road Road (from Currency Creek to Kurmond Road), Kurmond Road (including Vollers Land and Martins Lane), Terrace Road, the Hawkesbury River, Wire Line, Spinks Road, Currency Creek, Boundary Road, Howes Creek up to where it meets Currency Creek near Sackville, and back down Currency Creek.
The federal government's plan to ramp up the rollout of COVID-19 vaccines from Monday has been delayed by the extreme weather conditions in NSW.
Phase 1b of the vaccine roll is designed to inoculate 6.1 million Australians including health care workers who did not receive the jab in phase 1a, Australians over 70, Aboriginal and Torres Strait Islanders aged 55 and over, younger adults with a qualifying underlying medical condition or disability and disability carers, and critical and high-risk workers, including those in defence, police, fire, emergency services and meat processing.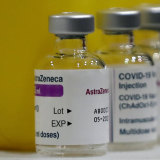 But wild weather in New South Wales means the already-delayed roll out will be knocked further off schedule by several days.
A federal government spokesman said on Saturday afternoon that the overseas-sourced vaccines would be delivered across the country and in place in most locations by the end of the weekend.
However, "due to extreme weather conditions and flooding in many parts of NSW, vaccine delivery is being affected in Sydney and across multiple regional NSW locations".
"The Department of Health is working directly with GPs on these issues and we ask for the public's patience and understanding with these unforeseen supply delays."
The Department of Health is working with doctors and logistics companies to establish where delivery trucks, for example, will not be able send vaccines because of floods and heavy rain.
A more detailed update will be provided on Sunday about which areas will be affected, and whether there will be a knock-on effect in neighbouring regions.
The weather system lashing NSW will arrive in Victoria on Sunday, but rainfall is expected to be significantly less, according to the Bureau of Meteorology on Saturday night.
Duty forecaster Ilana Cherny said Victorians could expect wet weather through until Tuesday.
Showers are expected to develop in Victoria on Sunday, with the heaviest falls in the central west and north of the state.
"On Sunday, the low pressure trough extending from NSW begins to track west in Victoria before another system forming over South Australia brings rainfall to Victoria from Monday," Ms Cherny said.
Melbourne can expect up to 3mm of rain on Sunday and up to 15mm on Tuesday.
Here are some of Saturday's incredible images from the Herald's photographers of the flooding and storms impacting the state. Despite the wet weather, Sydneysiders still ventured outside.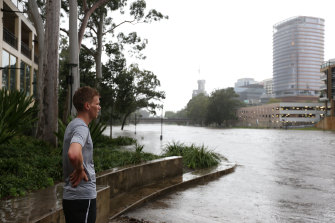 Welcome to our coverage of floods across the state. I'm Lucy Cormack. I'll be taking you through to the afternoon. Here's a recap of where we are as we start the day:
Wet weather is expected to continue battering the state until mid-week, with Warragamba Dam starting to spill as it nears capacity and a "mini-tornado" tearing up trees in Sydney's west on Saturday.
Areas including the Blue Mountains and western Sydney are expected to see very heavy rainfall and strong winds. Sydney CBD is expected to receive between 25 and 45mm, while Penrith is expected to see up to 120mm and Richmond up to 80mm.
Towns along the NSW North Coast, including Port Macquarie and Taree, were inundated by floodwaters as rivers broke their banks in what Prime Minister Scott Morrison labelled "absolutely heart-breaking scenes".
There are several SES evacuation orders and warnings in place across the state, including for Taree, Central Wingham and Wauchope.
Check out Saturday's incredible images from The Sydney Morning Herald's photographers.

NSW Premier Gladys Berejiklian described it as a "prolonged weather event," with rain likely to continue until Thursday or Friday. "The last time we got major floods in NSW the weather event passed in two or three days, unfortunately, this will be a deep-seated, extreme weather event," she said.
We will be live with the latest flood and weather updates throughout the day. Stay with us.