Thanks so much for joining us for today's AFL Sunday live blog, it's been a pleasure bringing these two games to you.
We won't be live blogging the West Coast v Gold Coast match but we will have the result and match report online later tonight and please stay with The Age and SMH for your footy news now the season is up and away.
Please have a lovely evening and I'll look forward to rejoining you for round two.
That was a gutsy win from the Saints who have kicked four of the last five goals to win in the wet in Sydney.
Every time the Giants challenged, the Saints found a way to hold them off or kick another goal and remain on equal footing.
You never know what wins are most valuable in a season, especially in round one, but this is the sort of result that can set up a whole season.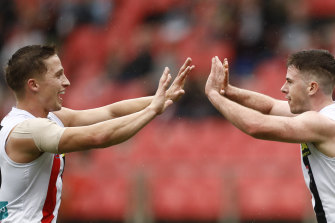 Real Footy newsletter
Keep up to date with the best AFL coverage in the country. Sign up to receive our free newsletter on Mondays and Fridays
Dan Butler has made possibly the play of the game to bump/tackle Callum Ward as he was trying to run out of defence.
Ward was called for holding the ball despite his protests and Butler held the ball until he was forced to kick and he still kicked the goal.
Saints up 86-78 with 32 seconds left.
The Saints have moved players back, they are trying to hold on to this lead.
The Giants went down the middle and it paid off as they found big man Lachie Keefe who went back and kicked the goal.
The Saints are up two points with just four minutes to play.
Tim Membrey pulled down another vital mark and then has gone back and put his set-shot right through the goals.
The Saints have been superb but now they need to finish the job.
Saints up 79-72 with six minutes left.
Seb Ross has kicked his second goal after threading a left-foot kick over the umpires head.
Who knows who will win this match but Saints coach Brett Rattern was pumping his fist as it sailed over.
Saints up 73-72 with seven minutes to play.
Jack Lonie has just pulled out a miracle goal to keep his Saints in the contest.
Lonie's snap cut the lead to a goal and the Saints have rushed a behind since then.
Giants lead 72-67 with 10 minutes to play.
Jacob Hopper has just run onto the ball and kicked a team-lifting goal to extend the lead to 10-points.
Hopper ran from midfield into the forward line and was rewarded for his hustle.
Giants up 70-60 with 14 minutes to play.
Himmelberg has again come up huge for the Giants kicking his third goal and giving his side a three-point lead.
The Giants lead 63-60 with 18 minutes left to play. Over to you Saints!