Only six companies did not meet the agency's reporting obligations in its first survey, nine years ago, but the number has blown out to 104 in the most recent update.
Companies include retailer Bing Lee, storage company Kennards and several family trusts that operate McDonald's franchises.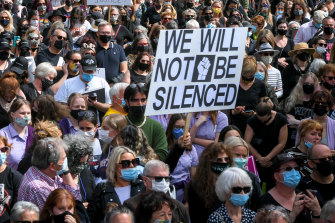 While those companies do not appear to gain federal contracts, the list also includes a dozen companies that continue to gain business even though the intent of the scheme is to use government procurement to encourage change.
"Non-compliant employers may not be eligible to tender for contracts under the Commonwealth and some state procurement frameworks and may not be eligible for some Commonwealth grants or other financial assistance," the agency says.
Companies that were non-compliant but received contracts included technology contractor Fredon, health company Myhomecare and defence supplier Prysmian, according to a check of government tenders by The Sydney Morning Herald and The Age.
Labor estimates the full list amounts to $71 million in contracts for companies that do not comply, although the Herald and The Age could not verify this figure.
Labor's spokeswoman on women, Tanya Plibersek, said the government needed to enforce the gender equality regime set up nine years ago.
"It's up to Scott Morrison to explain why he's giving taxpayer money to companies that have failed to report on women's pay and sexual harassment, as required by federal law," she said.
"Labor is concerned by the big jump in the number of companies that are refusing to provide information about working conditions for their women staff."
The Gillard government passed the Workplace Gender Equality Law in 2012 to require companies with more than 100 staff to report on workforce composition and policies to support gender equality, improve pay equity and prevent harassment.
Loading
The reporting scheme is meant to help the agency reveal any progress on fairness for women and encourage change.
Workplace Gender Equality Agency director Libby Lyons released figures last November showing men earned 20.1 per cent more than women in the year to June, equivalent to about $25,500 more a year. This was down 0.7 percentage points over the year.
"Closing the pay gap is not that difficult," Ms Lyons said at the time.
"If every employer today did a pay gap analysis to understand where the problems lie and then put a plan in place the gender pay gap would close very quickly.
"It's that lack of action that's holding us back."
Foreign Minister Marise Payne, who is also the Minister for Women, has promised a response to the Respect@Work report and signalled further measures to encourage women in the workplace.
"You can't be what you can't see. Women in leadership roles are so vitally important across our communities, across our countries and across the world," Senator Payne said on March 5.
"And those of us who have the privilege, the responsibility and the opportunity to share in those roles, we have to continue to work together for a world that is more inclusive, where women are equal and respected leaders."
David Crowe is chief political correspondent for The Sydney Morning Herald and The Age.