The State Emergency Operations Centre at Homebush has been activated following severe wet weather and flooding throughout New South Wales.
The team will access live information, intelligence sharing, digital mapping, as well as public information to quickly get critical information to the public.
The Minister for Police and Emergency Services, David Elliott, reinforced the importance of flood-threatened communities working with emergency services and observing any directions they are given.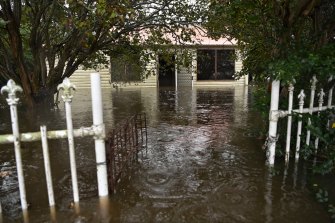 "We don't want to see people going into flood-affected areas and then finding themselves in difficulty. It not only puts their own lives at risk but the lives of the emergency service workers and rescuers also," Mr Elliott said.
"It's about making smart decisions and following the advice of experts.
"That way, our responders can concentrate their efforts on helping people in most need during this extraordinary and significant weather event."
The State Emergency Operations Controller, NSW Police Deputy Commissioner Gary Worboys, has appealed to flood-affected communities to observe warnings and evacuation orders as police work closely with the SES and other emergency service agencies.
"This severe weather event is impacting communities across the state. The State Emergency Operations Centre will bring agency operations together under the one roof to manage the situation in real-time," Deputy Commissioner Worboys said.
NSW Premier Gladys Berejiklian has moved to reassure people despite the drastic weather conditions, help is available.
"For those reasons, we are limited in how we can help people. But no matter where you live, no matter how isolated you feel, help will get to you," she said.
NSW State Emergency Service Commissioner Carlene York said the state is facing two significant weather fronts, with heavy rain expected today.
"Of particular concern this morning is the Colo River and adjacent areas, so we have issued a new evacuation order," she said. "There are 200 homes affected and access is very difficult at that remote area so we will have rescue boats and helicopters going in to assist those people."
"We want to make sure people are safe and don't place themselves in danger … as we caution people, do not travel into floodwaters."
There are about 1400 SES volunteers assisting people across the state, with another 40 interstate flood technicians arriving on Monday to help.
NSW Premier Gladys Berejiklian says worsening conditions may result in an additional 15,000 people on standby being evacuated.
"We advised yesterday about 18,000 people have been evacuated and regrettably we now have warnings for an additional 15,000 people that may need to be evacuated," she said. "The extra areas of concern are around the river in the Hawkesbury but also the northern rivers area that was previously not as severe as the Mid North Coast."
"The government has set up a number of evacuation centres but the number of people in those centres is relatively low, which suggests most people have been able to take our advice and stay with family and friends."
Ms Berejiklian said while some parts of the state might see sunny weather on Wednesday, the danger was not over.
"Many river systems are still taking major flows in, many rivers continue to rise, so they could be flooding in communities we have not anticipated. So that's why, please, listen to the advice in the alerts," she said.
Ms Berejiklian urged those under evacuation warnings to be prepared to leave at short notice.
Premier Gladys Berejiklian, Minister for Police and Emergency Services David Elliott and NSW State Emergency Service Commissioner Carlene York will provide an update on the storm and flooding events across the state at 8am.
They will be joined by Deputy Commissioner Gary Worboys, State Emergency Operations Controller and Commissioner of Resilience NSW Shane Fitzsimmons.
An evacuation order has been issued for the Colo River, with people along the Upper Colo River told to relocate from the high danger area. The NSW SES will be using boats and helicopters to relocate people from the valley.
The evacuation is for all properties along and adjacent to the Colo River.
From 8am today you should be ready to be evacuated from your home via
helicopter or boat.
You can only take essential items with you such as warm clothes,
medicines, insurance documents and valuables.
The Hawkesbury River at Windsor peaked at 12.75 metres around 2:45am this morning, with major flooding similar to the July 1990 event. Flooding may remain at these levels for the next few days based on forecast rainfall.
The Sydney Morning Herald's photographer Nick Moir is in Windsor this morning to document the floods. His images show a slight receding in water levels, as seen in this first image.
Since 9am on Monday, Windsor received 37.9mm of rain, with more expected today.
More rain was expected to inundate Queensland's south-east on Tuesday, with flooded roads after days of downpour prompting the state's Premier to plead with drivers to stay home if possible.
Fire and Emergency Services Minister Mark Ryan said the worst of the weather was expected to develop overnight on Monday, with 169 millimetres expected to fall in six hours in some regions.
Deception Bay received 50 millimetres, Horse Crossing copped 80 millimetres, Carbrook had 88 millimetres and Upper Springbrook received 75 millimetres within about eight hours on Monday.
There have been more than 680 requests for assistance to SES between 5am on Sunday and 4pm on Monday. Most of the calls were from Brisbane and Gold Coast residents.
We're expecting heavy rainfall across much of eastern Australia today including in NSW's south.
Ben Domensino, a senior Weatherzone meteorologist, shared this model on social media of predicted rain totals, showing 100 millimetres forecast around Merimbula on the South Coast.
According to the Bureau of Meteorology, some of the highest rainfall observations to 9am on Monday were 245 millimetres at Nambucca Heads, 203 millimetres at Mount Seaview and 183 millimetres at Coffs Harbour.
From 9am on Monday, some of the heaviest falls were in the far north-west and west, with 98.8 millimetres recorded at Tibooburra and 89.4 millimetres at Borrona Downs.
NSW SES Commissioner Carlene York says the rain shows no sign of stopping today, with several areas across the state raising concerns.
The Colo River was issued with an evacuation warning overnight, with residents in all properties along and adjacent to the Colo River including Wheeny Creek, told to evacuate by 5am this morning.
"There are 200 homes already isolated and access is difficult," Ms York told 2GB.
Other areas of concern include the areas along the Hawkesbury River, Mid-North Coast and the South Coast.
The Sydney Morning Herald photographers have captured these incredible images from across the state as heavy rains continue to batter NSW.