"It's a contact game but we've also got to make sure that we're looking after concussion and approaching that in the right way, and respecting that. But it's also a game that's played in 360 [degrees] at high speed and it's been a part of the game for a long period of time.
"I think it's folly to look back through different cases because it can change, who knows how it's going to play out."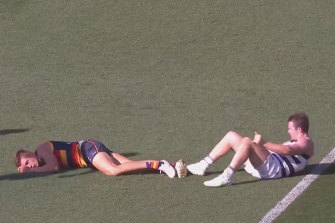 Collingwood coach Nathan Buckley did not provide his opinion on what the sanction should be, but said players were fully aware of the repercussions of serious head knocks.
"That rule has been in place for a while now. I don't think we are in between eras in that regard. We are always in between in the old and the new and it's often a significant event that will reinforce the line between what was accepted and what is now expected," Buckley said.
"It is difficult when you are playing the game, though. You have got to put pressure on in that instance and the type of pressure that you choose to put on is really a matter of choice."
However, Buckley believes Dangerfield had not shown any malicious intent.
"We operate to the laws as they are written. When I say we, the 18 clubs and the coaches and players within it," he said.
"I think it's important to note that those two are really good mates. Things happen on the football field. I am pretty sure Patrick, there wasn't any malice or malicious intent in the action as such but there was head contact and the laws are clear around that.
"The AFL or the tribunal have a decision to make. Good mates who met each other on the football field, Patrick's actions were understandable because you want to put pressure on a player but there was a head clash and there were repercussions from that, so I suppose we all sit and watch for the tribunal to validate the laws that have been put in place and to what level."